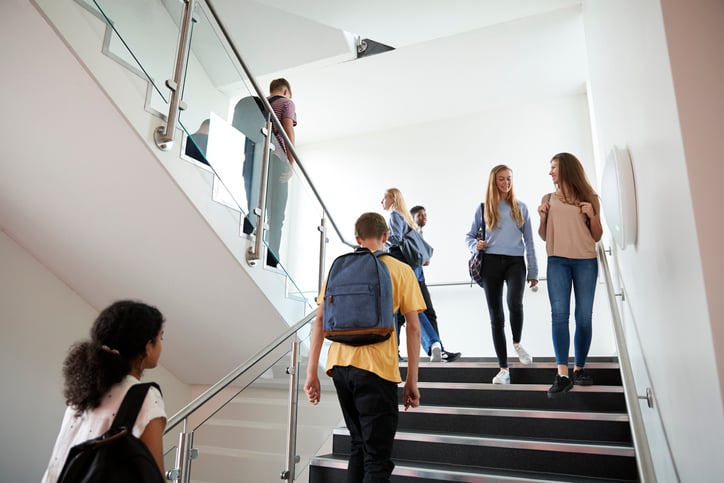 This year, the Indiana State Legislature appropriated more than $19 million in the state budget to support the Indiana Secured School Safety Grant Fund (SSSG) Program in the state fiscal years (FY) 2020-2021. The Legislature also expanded the ways schools could use their grant funds and adjusted the funding formula to allow more schools to access the fund. With these changes, more funding, more options, and more schools will now be able to make their students safer.
In previous years, schools could use their grant funds for the following:
Hire and/or provide training for school resource officers (SROs), sworn law enforcement officers responsible for the safety and crime prevention in schools
Conduct a threat assessment to identify, evaluate, and address active and potential threats to school security
Purchase equipment to restrict access to the school and/or expedite notification of first responders to facilitate faster response in the event of an emergency.
Starting in 2020, schools can also use their funds to:
Support firearms training for teachers and SROs in districts that choose to implement such programs
Support the implementation of a student and parent support services program
Fund the initial startup costs for an active alert warning system, which could include wireless emergency alerts such as texts and/or other types of mass notifications.
The SSSG Program provides matching grants, which require schools to come up with the necessary funding from their own budgets to match the amount of grant funds awarded. Despite what the term implies, the required match is not necessarily dollar for dollar. The SSSG Program match is based on the size of the school in terms of the average daily number of students in attendance. For example, schools with an average daily attendance of 500 or fewer students applying for up to $35,000 are required to come up with 25 percent match while schools with more than 500 students (on average) in attendance each day would have to come up with 50 percent. All schools may apply for a maximum of $100,000 in grant funds, which would require a 100 percent match. With matching funds, schools are able to leverage their grant dollars to do more.
The SSSG was first signed into law in 2013, and this year's allocation is the highest single-year investment in security and safety initiatives in Indiana schools to date. With the funding allocated for FY20-21, the program has awarded more than $72 million to school districts throughout the state.
How Are Schools Spending Their Grant Funds?
The number of Indiana schools requesting funds from the SSSG Program continues to rise and has more than doubled since the program's inception. For FY20-21, a total of 429 schools were awarded more than $19 million in SSSG funds – a 33.8 percent increase over the amount awarded for 2019. The figure below shows how these schools are investing their funds and the number of schools investing in each type of security measure.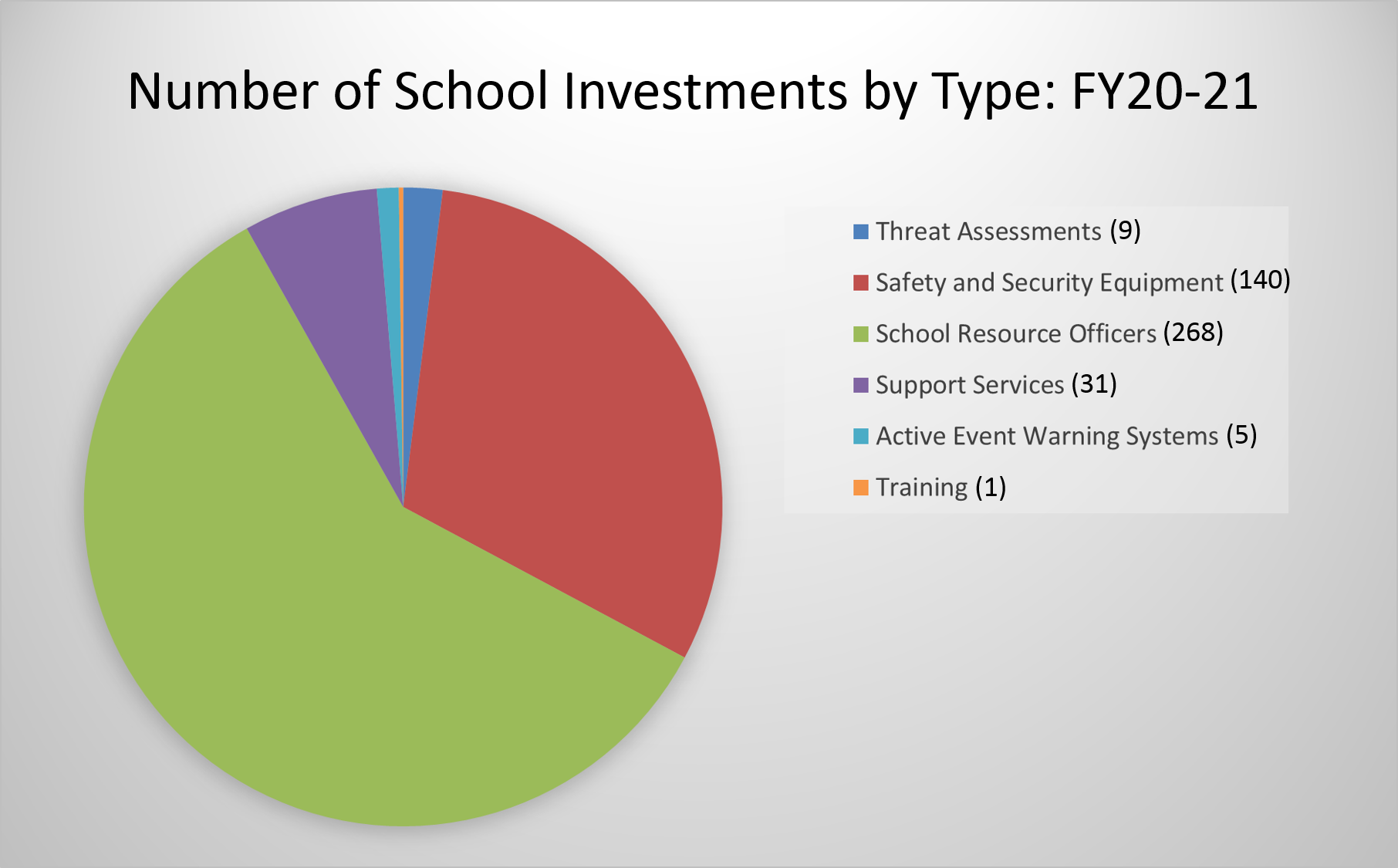 A majority of schools (59 percent) are using their funds to hire and provide training for school resource officers. This is consistent with previous years – on average, about two-thirds of all schools funded since 2017 have used their funds to support the presence of SROs at their schools.
A significant number of schools (31 percent) are using their funding to purchase and install additional safety and security equipment. Some of the greatest gains in this area can be achieved by integrating and updating their emergency communication systems with the school's fire, security and life safety systems to facilitate faster response in any type of emergency. Faster response can mean more lives saved in the event of a security breach. Such integration offers many advantages in addition to making students safer. Grant funds may also be used to pay for active event warning systems with no matching requirement.
Surprisingly few schools (just 2 percent) are using their award for threat assessment. This may be shortsighted. Better school security starts with a plan. There is a wide range of options when it comes to choosing the type of school security technology to utilize, making it all too easy to make the wrong choice. With funding from Indiana's SSSG Program available each year, schools can start thinking now about getting a plan in place to ensure they're making the right investments. Even schools with modest budgets can start with a threat assessment to develop a plan for improving their security in phases, starting with the easiest-to-implement practices and technology and scaling up in successive years.
Koorsen Can Help
If your school is considering applying for SSSG funds in the future, Koorsen can assist you with understanding the many technology options you have for improving your school's security systems and integrating your emergency communications systems. The Koorsen Fire & Security team knows the unique challenges of maintaining safety and security in an educational facility. We bring extensive experience to every education project, from installing intricate emergency notification systems to performing monthly service and inspections for schools of any size. Contact Koorsen today to learn more.