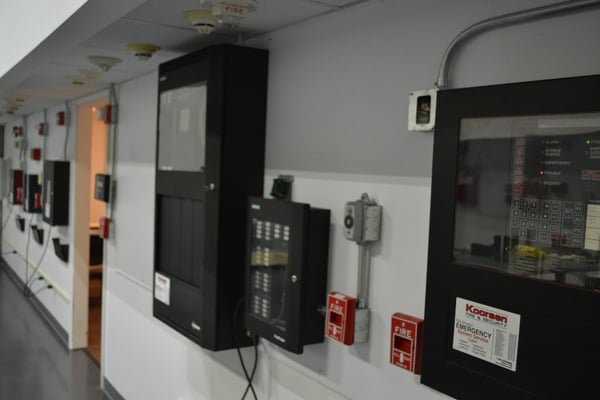 The Internet of Things (IoT) is rapidly changing the way we live and work today. Thanks to the availability of cheap processors and wireless networks, billions of physical devices around the world are now connected to the Internet and collecting, sharing, and receiving data of all kinds. With IoT now finding its way into almost every industry imaginable, the possibilities for new applications of this technology seem endless.
In the fire safety industry, the use of IoT is still somewhat limited. While we can easily envision new and exciting applications that could take our fire safety systems to the next level, the time lag between innovation and code development remains an important caveat to consider before investing in new IoT technologies.
The IoT offers tremendous opportunities for improvements to fire safety systems both in terms of costs and lives saved. Here are just a few of the benefits IoT can provide:
Reduced system installation costs – With Power over Ethernet (PoE) technology, network cables capable of carrying electrical power and data within a single line, one cable can now do the job of two.
Reduced operating costs – Internet-enabled fire protection systems allow for remote monitoring to help ensure continuous operation of the system, prevent unscheduled emergency repairs, and better control of false alarms.
Reduced service costs – Remote monitoring through the Internet and the ability to transmit diagnostic information over the same lines can ensure that when service is needed, the technician will arrive with all the necessary parts so that the repair can be completed more quickly in one trip.
A Compelling Vision for the Future of Fire Safety
IoT can also save lives. With the ability to transmit critical data to first responders in real time, IoT technologies can enhance the operational efficiency of the fire service and the effectiveness of fire protection to:
Improve firefighter health and safety
Improve occupant safety and minimize injuries during a fire
Minimize property loss and business interruptions due to fire
In its Research Roadmap for Smart Fire Fighting Summary Report, the National Institute of Standards and Technology (NIST) predicts that in the future, new and emerging technologies will usher in the evolution of "smart fire fighting" in which firefighters will have a whole new arsenal of tools to work with, such as:
Data-driven, science-based tactics
Information-rich decision making
Devices that provide for better situational awareness
Comprehensive data collection, analysis, and communication in real time
Interconnected buildings and equipment to provide better monitoring, data, and control systems
The ability to use devices to perform functions that humans cannot do.
Here are just a few examples:
With remotely monitored systems capable of sending and receiving data, first responders could receive data the moment they roll out of the station that tells them exactly where in the building the actuated alarms are located. Combined with a building plan located and accessible from a central server, this information could help them respond more quickly to the call and identify the safest way to enter a burning structure before they even get there.
Fire emergencies often involve several responders from different jurisdictions, which when combined with an emergency situation that can change very quickly, can make managing the fire fighting process extremely challenging for the incident commander on the scene. In the future, we can expect to see fire engines equipped with technology that turns them into wireless hotspots for enabled devices that can be used to monitor the movement of firefighters and communicate with them as they make their way through a fire.
We might also expect new IoT technologies that allow for "smart" fire suppression systems with the ability to identify the location of a fire within a structure, the nature of the fire, and whether there are any occupants in the room. IoT enabled fire safety systems will be capable of activating different fire suppression systems targeted to specific areas, resulting in more targeted, effective suppression and less overall damage.
With the robotics and drone technology available today, the idea that such devices could be enabled to operate autonomously in a fire emergency is probably closer to becoming a reality that you might think. With a constant flow of incoming data, such devices could be guided by someone from a safe position outside the fire to enter a burning building in advance of firefighters to identify dangerous areas and provide a safer path for their entry. they could also be used to find victims in need of rescue and possibly even provide them with oxygen supplies to help them survive until firefighters can reach them.
Codes Will Continue to Lag Behind New Technologies
Despite our vision for the IoT to improve our fire safety systems, its use in the fire safety industry is still somewhat limited by our current regulatory infrastructure, which is built upon a long-standing, well-established, and integrated system of fire codes and building codes. Given the rapid pace of change in IoT technology, it is unlikely that these codes will be able to keep up with new innovations.
NFPA Codes are updated every 3-5 years and may not be able to anticipate what new technologies will be available by the time they are published. Adoption of new or revised requirements at the local level also takes additional time and can vary from jurisdiction to jurisdiction.
What this means for building owners is that new IoT enabled devices and components for fire safety systems will likely reach the marketplace before they have been adequately vetted by the NFPA. Here are just a few of the concerns related to the use of IoT technologies that may not be addressed in the current regulations:
How to ensure that fire alarms will take precedence over other signals transmitted through a network during an emergency.
How to ensure that all network devices are robust enough to work properly with the existing fire alarm equipment.
How to manage any automatic updates to the application software used in enabled devices and systems so that they don't result in significant downtime or the need to reboot the system.
Cybersecurity also presents a significant challenge. While the use of firewalls and secure networks is considered a crucial IT security best practice, they can also inhibit the flow of critical data that firefighters need in an emergency.
For its part, the NFPA has stated that it does not want to be a barrier to IoT technology and has signaled its intention to support and evolve with emerging technologies. However, there needs to be a timely way to determine what technologies can be allowed and how they can be safely implemented. Toward that goal, in 2017, the research arm of the NFPA, the Fire Protection Research Foundation, convened the "Power Over the Ethernet (PoE)" workshop to begin looking at:
Regulatory coordination including developing common definitions and terminology to be used, how to facilitate enforcement, how to address new products as they enter the market, and how to coordinate Code revisions.
Technical issues related to power supplies, data integrity, and communications.
Research and data needs including the types of predictive analytics that might be needed and existing knowledge gaps.
Training and education needs and how to build awareness of the role these new technologies will play in fire safety systems.
The initial focus of the NFPA has been on revising the NFPA 72 National Fire Alarm and Signaling Code. The NFPA 72 now includes a definition for "Class N Devices and Pathways", which allow fire alarms to be connected with PoE cables instead of traditional systems that use two cables, one for the power and the other for the fire alarm signal. With a PoE system, each device is now defined as an endpoint with its own circuit and unique Internet Protocol (IP) address. While PoE technology is not new, with the 2016 revision to NFPA 72, when properly installed, PoE is now considered reliable enough for use in fire alarms systems.
In the future, we can expect the use of IoT and PoE technologies to be more fully addressed in other NFPA Codes as well, including:
Talk to an Expert Before You Invest
These are exciting times, not only for the fire safety industry, but for building owners interested in leveraging the benefits that the IoT has to offer. New construction and building renovations provide an excellent opportunity to incorporate IoT enabled components into your fire safety system. Almost any existing building can be retrofitted to take advantage of this technology.
When considering IoT enabled devices and fire safety system components, it is important to remember that the marketplace will likely move faster than the NFPA Codes can be updated. In the absence of requirements specific to the enabled devices and equipment available, it is important to consult with experts who can help ensure that the technology you invest in today does not in any way compromise existing fire and life safety regulations.
Koorsen's certified technicians and engineers have extensive knowledge of NFPA Codes and can provide expert guidance to help you evaluate new technologies before making an investment. If you are considering incorporating IoT technology into your fire safety system, contact Koorsen today to ensure the fire safety system you envision will continue to meet or exceed all local and national fire codes and regulations.