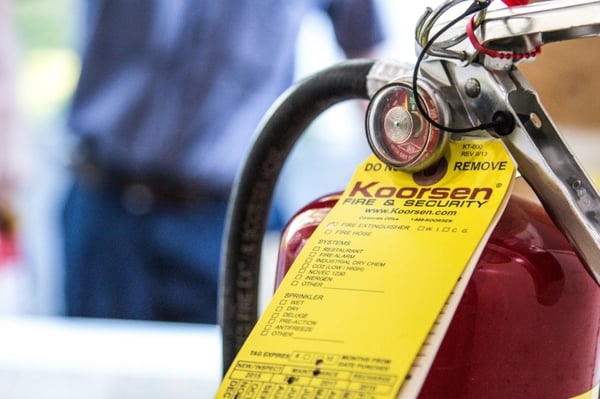 Everyone feels safer knowing there is a fire extinguisher in their home or workplace. But a fire extinguisher won't do much good if it's not in good working condition.
This is why monthly fire extinguisher inspections are necessary. That and monthly inspections are required by the NFPA for businesses.
What is the Monthly Fire Extinguisher Inspection?
Unlike annual maintenance inspections, which need to be performed by professionals like Koorsen Fire & Security, the monthly inspection is just a quick visual inspection that does not require calling in a professional or the use of any special tools. Koorsen can however perform monthly inspections for your convenience.
Employers are required by OSHA to ensure monthly fire extinguisher inspections are performed on all portable fire extinguishers in the workplace, and homeowners would be wise to perform them on their home fire extinguishers as well. Employers must also make sure that the monthly inspection is recorded.
Who Can/Should Perform the Monthly Inspection?
While the employer bears the weight of responsibility, per OSHA, to ensure that the monthly fire extinguisher inspection is performed and recorded, the employer does not necessarily have to execute the inspection by himself or herself.
An office or facility manager or a designated safety officer may be assigned the task. All that matters is that the individual appointed to do it knows what to look for, how to address any concerning findings properly, and how to record the inspection correctly.
How to Perform the Monthly Inspection
So, how do you complete a monthly fire extinguisher inspection? Just check the four following points:
Accessibility: visit each area where a fire extinguisher is or should be. Make sure that it is still there, that it can be easily seen and that it can be easily reached.

There should be no furniture or other obstruction blocking the extinguisher from view or easy access. Also verify that it is in its designated location, which is usually 3.5 to 5 ft off the ground on a specially designed bracket or in an unlocked marked box or glass cabinet.


Physical Condition: next, retrieve the fire extinguisher to give it a closer visual inspection of its overall physical condition.

During this visual inspection, you need to check that:

The extinguisher's label, with instructions for proper use, is still legible and that you can identify the serial number.
There are no dents, punctures, or other damages to the cylinder.
There is no rust or corrosion present, especially on the metal elements.
The connection between the cylinder and its hose is tight and secure.
The hose is free of cracks, and the nozzle is free of leaks and clogs.
The locking pin is present, passing through the designated holes in the discharge lever and handle, and properly sealed.
Mainly, you are looking for any signs of damage or tampering. If you discover any problems, you will need to take appropriate action.
If the extinguisher is obstructed, you can move the obstacles or place the extinguisher in a more accessible location in the area.
If, however, the extinguisher is damaged (dents, corrosion, etc.), you will need to remove it and contact your local Koorsen branch to get a replacement.
If the locking pin has a broken seal or is missing, you can contact Koorsen Fire & Security for a replacement pin and seal.
Pressure Gauge: next, you will want to make sure that your extinguisher is still properly charged by checking the pressure gauge. The needle should be within the operating range, often indicated by a green zone.

If the needle is to the left of the green zone in the red, this indicates that it has lost pressure and needs to be recharged. If the needle is in the red to the right of the green zone, this indicates that it is over-pressurized and in danger of leaking or even explosion.

If the pressure gauge indicates either under- or overcharge, you will need to contact Koorsen to get it either recharged or replaced.


Inspection Tag: finally, check that the inspection tag is still in place and look to see when it last received a professional maintenance inspection. It should receive one at least once a year.
That's it! You have completed a monthly fire extinguisher inspection!
Recording the Monthly Fire Extinguisher Inspection
Once you have completed the inspection, you will need to record it for your records.
First, while you are checking the inspection tag for the last annual inspection, be sure to sign off on the monthly inspection tag yourself with your name (or initials), signature, and the date of inspection.
Next, you will need to write up a simple report that summarizes your observations and includes an action-steps plan, if necessary (should there be any damages or issues that need to be corrected). Make sure the report also includes the location of the extinguisher, your name, and the date.
Need Assistance?
Whether you have fire extinguishers in need of maintenance and attention, or you feel that you and/or your staff need better training to understand how to use and care for your extinguishers properly, Koorsen Fire & Security is here to assist you.
Their team can help ensure that you have the best extinguishers for your worksite. They can also repair, recharge, or help replace extinguishers that are in need; and provide you and your staff with a variety of training options to help everyone feel comfortable taking action in the event of a fire.
Give Koorsen a call today to get started.