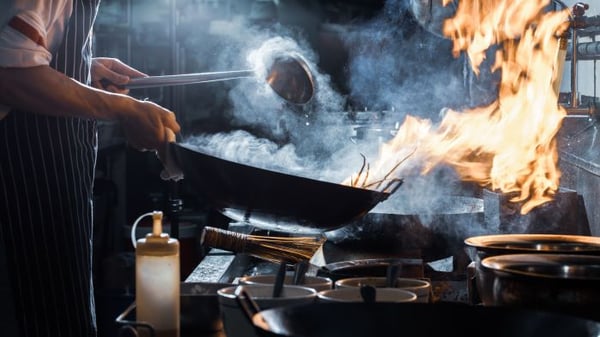 The kitchen is the heart and soul of a restaurant. It's where the unique foods and flavors that give the restaurant its character are dreamed up and created.
Yet, it is also the restaurant business's greatest risk.
The kitchen is nothing short of a giant fire hazard with all of its flammable liquids, high temperatures, plentiful paper products, electrical equipment, and motorized tools at risk of overheating. There are approximately over 8,000 restaurant fires annually, causing over $240 million in property damage every year, not to mention injuries and fatalities.
To protect your restaurant, employees, and customers from devastating restaurant fires, it is vital you understand the most common causes of restaurant fires and the best steps you can take towards fire protection in your commercial kitchen.
Common Causes of Restaurant Fires
Educating yourself and your employees on the most dangerous fire risks present in your restaurant will go a long way in helping to prevent a fire from starting and progressing.

Following are six of the most common causes of restaurant fires:
Electrical: When new appliances are hooked up to outdated wiring, when a kitchen is overloaded with appliances past capacity, or when faulty switches, sockets, or plugs are installed, the dangers of sparks, overheating, fire and even explosion increase. Furthermore, faulty or frayed cords, no matter how new, will pose a risk of sparking and catching fire.
Open Flames: Open flames pose the most obvious risk, but the reason may be less obvious. Seemingly benign items, such as kitchen towels, pot holders, loose articles of clothing, and long, dangling hair, can quickly catch fire and be the fuel necessary to spread the open flame to other parts of the kitchen, causing immediate physical harm and possibly spreading it elsewhere.


Flammable Liquids: Any restaurant kitchen typically has plenty of flammable liquids like cooking oil, animal fats, grease, and alcohol. Besides being highly flammable, their liquidity allows liquid fires to spread and behave in exceptionally dangerous ways while also making them harder to put out – you cannot simply douse a liquid fire with water.


Flammable Materials: An easily overlooked fire hazard in restaurant kitchens is all of the food packaging, wrapping, and boxes, as well as materials such as parchment paper and foil. When these items are not properly stored or disposed of, they become little more than kindling ready to be lit and are a common source of restaurant fires.


Dirty equipment (oven hoods, grease traps): Grease is extremely flammable and nearly ubiquitous on your restaurant kitchen's surfaces. It quickly spreads and builds up on cook-tops, in exhaust-hoods, in ducts, etc. making many surfaces in your kitchen the ideal fuel and pathway for fire to spread.

Full grease traps are also a part of this problem. It is not difficult for articles of food or even paper to slip into a grease trap. These items can easily catch fire when more hot grease is added.


Gas Leaks: Some of the most devastating restaurant fires are caused by gas leaks. These explosive situations are often caused when equipment is not properly connected to a gas line, or when older or improperly maintained equipment can no longer support the gas flow. Gas escapes from these poor connections into the air which can then explode if ignited. A simple lighting of a match or even turning on electrical equipment can be enough to ignite the gas in the air and cause an explosion.
Putting Out Restaurant Fires
Restaurant kitchens are rife with fire hazards, and unfortunately, they are not always the simplest to put out.
In the event of a grease fire or a fire involving any flammable liquid, such as oil, alcohol, or animal fat, water cannot be used to put the fire out. Water will only spread the fire and make it worse.
Electrical fires – another of the most common causes of restaurant fires – also cannot be extinguished by water as it would risk electrocution and further spread of the fire.
Ultimately, the best methods of fighting restaurant fires are through uniquely designed kitchen fire suppression systems, prevention, and educated employees.
Fire Protection Every Restaurant Kitchen Needs
Fire protection has come a long way, especially in the design of fire suppressants specifically designed for grease and oil-based fires. These suppressants are used in hood suppression systems and special classes of fire extinguishers designed for the unique hazards of a kitchen.
Need Help Protecting Your Restaurant?
Whether you already have a hood suppression system or need help choosing and installing fire protection elements in your restaurant, or if you simply want to provide your employees with better training, the expertly trained team at Koorsen Fire & Security can help you out.
Call Koorsen today with your questions or to make an appointment.