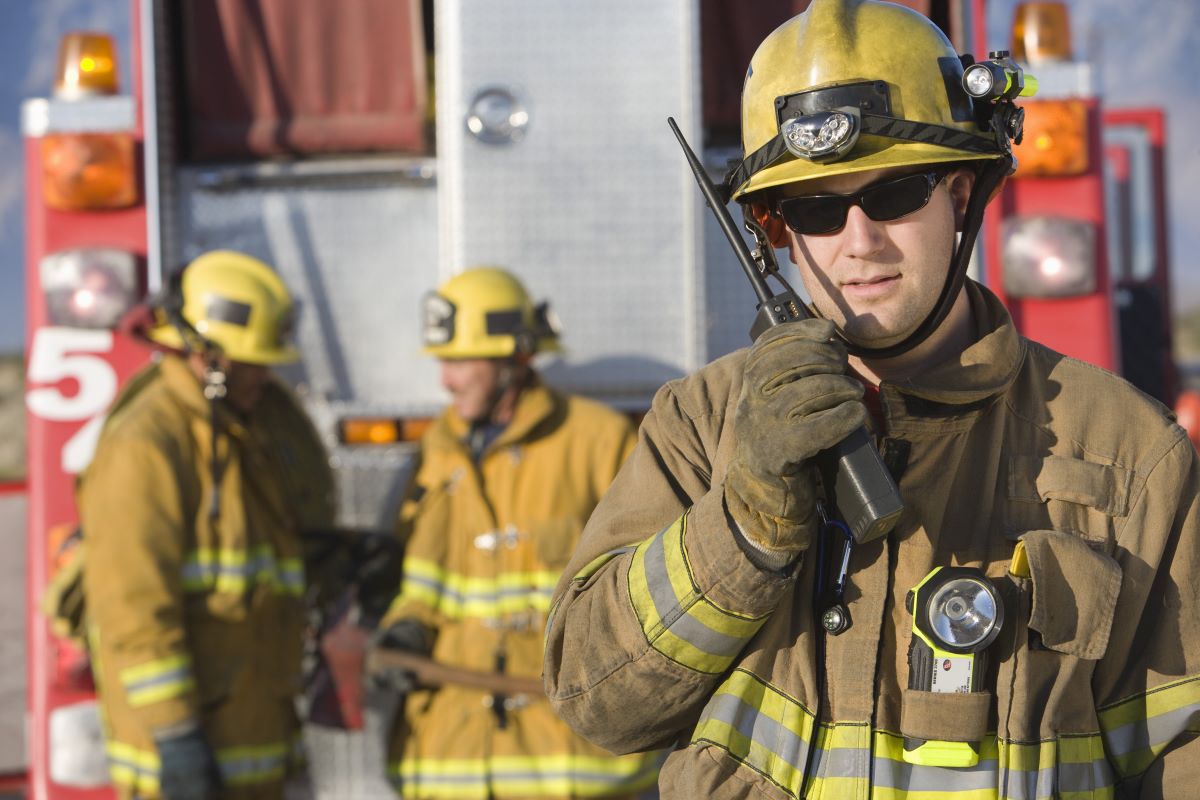 An Emergency Responder Communication Enhancement System (ERCES) is designed to improve communication coverage and signal strength for emergency responders inside buildings. Here's how an ERCES system works:
Signal Transmission and Reception: An ERCES system typically includes a Distributed Antenna System (DAS), a network of cables and antennas that are strategically placed throughout a building to receive and distribute the emergency responder radio signals. On the roof or at a high point in the building, you will typically find the Donor or Directional Antenna, which faces the closest Public Safety Tower Antenna and receives and transmits the RF radio signals between emergency responders inside the building and those outside the building and throughout the jurisdiction.
Amplification: The received and transmitted signals are amplified by the Bi-Directional 2 Way Amplifier (BDA) of the ERCES system to increase their power and improve the quality of the signals. The amplified signals are then transmitted to poor signal areas of the building, improving coverage and ensuring that emergency responders can communicate effectively in all parts of a building.
Supervision: An ERCES BDA system will be integrated with the building's fire alarm system to show any troubles or problems with the ERCES BDA system and let the building owner or Emergency Responders know about impairments.
Codes and Regulations Covering ERCES Systems
Various organizations and codes regulate the requirement for Emergency Responder Communication Enhancement Systems (ERCES). Here are some of the major organizations and codes that require ERCES systems:
National Fire Protection Association (NFPA): NFPA 72 2010 and 2013 and 1221 and 1225 2016, 2019 and 2022, the National Fire Alarm and Signaling Code, requires ERCES systems to meet critical minimum requirements; this code ensures that these critical communications are heard and received by all areas of the building.
International Building Code (IBC), International Fire Code (IFC) and NFPA 1 and 101: These codes determine if a signal survey to measure signal strength and an ERCES BDA are required. You can find these requirements in Section 916 of IBC, 510 of IFC, and 11.10 of NFPA 1
Federal Communications Commission (FCC): The FCC 90 regulates the use of radio frequency spectrum, including the frequency bands used for public safety communications. The FCC requires that ERCES systems meet minimum certain transmission and reception requirements and to be registered on their website.
UL 2524 Underwriters Laboratories created the performance and safety standard for BDA and Building Owners, Contractors, Installers, Engineers, and AHJS should all require these systems to be UL Listed 2nd Edition minimum
Occupational Safety and Health Administration (OSHA): OSHA requires employers to provide a safe and healthy work environment for employees, including adequate emergency communications. In certain circumstances, this may require the installation of an ERCES system to ensure that emergency responders can communicate effectively during an emergency. OSHA also approves the labs that can test and ensure manufacturers meet UL 2524.
Does My Facility Require an ERCES?
Are you concerned about ensuring effective communication coverage for emergency responders in your building or facility? Do you want to ensure the safety and security of your building occupants and emergency responders during an emergency? If so, consider an Emergency Responder Radio Coverage Enhancement System (ERCES).
At Koorsen Fire & Security, we are experts in ERCES systems and can help you determine if an ERCES system is required for your facility. Our knowledgeable team can assess your building's unique needs and design a customized solution to meet those needs, ensuring that your building is equipped with the best possible emergency communications coverage.
Koorsen uses the latest technology, PC Tel Signal survey equipment, to perform initial and final test surveys to ensure the building owner gets the best value for their investment.
Contact Koorsen Fire & Security Today!
Contact Koorsen Fire & Security to learn more about ERCES BDA and whether it is required or recommended for your facility. Our team is available to answer any questions you may have and guide you through the process of ensuring effective communication coverage for emergency responders in your building. Don't compromise on safety; contact Koorsen Fire & Security today!