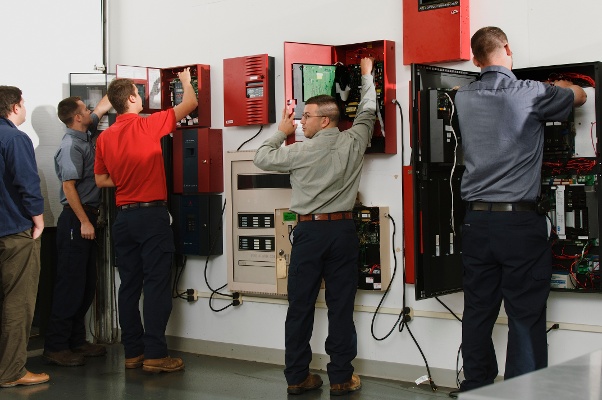 First, we built a training center that was unique in the industry and improved exponentially the quality of our service. Then, we built an even better one.
Now nearly finished, our new training center offers a lot more space, meaning more class offerings and more tailored training for Koorsen associates from every branch.
Since its early days, the purpose of our training center has been to provide consistent training to every Koorsen technician in every branch. We've used it to ramp up new hires, to ensure that technicians become ace troubleshooters who can not only diagnose but repair issues that they encounter in the field, and to refresh the knowledge of employees who've been on the job for a while. We've also used it to host vendors while they provide their own specialized product training, and we even provide continuing education for fire marshals and other authorities holding jurisdiction from all across the Midwest.
We'll keep doing all of that. We'll just do it more efficiently, more often, and in a roomier space with a lot better classroom technology. Doubling our classroom space enabled us to increase the number of class offerings, making sure that each of our team members gets ample hands-on time with all of the equipment he or she will use in the field.
"The biggest change is that now every discipline has its own area within the training center," said Vice President of Service Management Billy Findley. "We have a separate training area for fire alarms, security, clean agent and CO2 suppression systems, kitchen fire suppression, fire sprinklers, and extinguishers and exit lights. Each of these areas doubles as a classroom with a screen, projector, and seating. So you don't learn in one room and then trek over to another. Everything's right there where you need it."
It was important to ensure that we increased our training capabilities in an environmentally friendly way. Expanding the center meant adding 9,000 square feet, and yet our energy-efficiency initiatives cut our electric bills by $300 per month. In fact, the savings from our energy-efficient upgrades, combined with rebates from Indianapolis Power & Light, mean an 18-month payback time on those investments, which include LED light fixtures, a 98% efficient HVAC system, and infrared occupancy sensors.
"We also made provisions during the renovation for solar panels that will tie into electric car charging stations—and into the grid system so that any power we create but don't use will be transferred to the grid and earn us credit from IPL," said Corporate Project Manager Charlie Jenkins. "We hope to have the solar panels in place within the next year."
We're proud of the technological and efficiency details built into the training center, but our new facility wouldn't be worth much without experience and knowledge to fill it. We have an ace team of instructors leading our classes—one for each discipline. Each trainer has years (in most cases, decades) of experience in the industry.
"This kind of facility is absolutely unique in the industry," Findley said. "The level of technology, the space, the extensive range of equipment to learn on—there's nothing close to it anywhere else. And that means we have the best-trained technicians in the industry, without a doubt."
For more information about the Koorsen Training Center and the classes we offer, contact us today.
Koorsen Fire & Security was founded in 1946 and is a third-generation, family-owned business. Over the years, Koorsen has become one of the largest and most respected fire and security companies in the United States with over 24 locations and nearly 1,200 associates. Koorsen services businesses in cities throughout the Midwest and South including Nashville, Huntsville, Lexington, Evansville, Cleveland, South Bend, and Dayton.