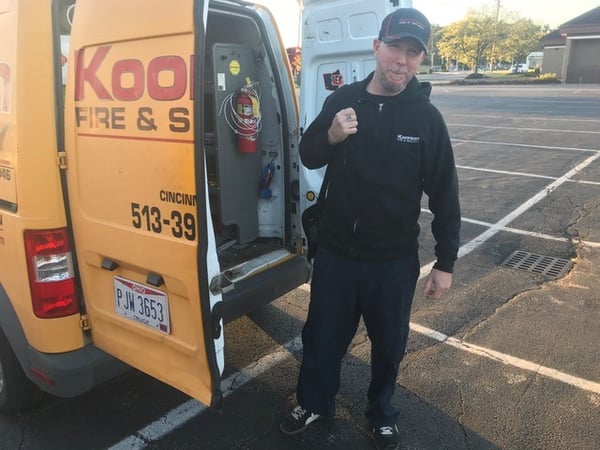 At Koorsen Fire & Security, we love creating true community among our branches, employees, and the local areas we serve. As a family-owned business, we enjoy fostering a family-friendly atmosphere and strive to encourage and celebrate our employees' growth professionally and personally.
These are just a couple of the reasons why we began our "Day in the Life of a Koorsen Associate" blog series.
Today, we are bringing you our latest installment, this time from a team member working in the security side of Koorsen!
Meet Mr. Paul Fay
Paul Fay joined the Cincinnati Koorsen team as a Security Installer & Service Technician a little over four-and-a-half years ago. Though new to Koorsen at that time, he was certainly no stranger to the industry:
"Everyone in my family is in this industry," Paul shared with us. In fact, Paul came to Koorsen after working directly for his father's own alarm company.
It didn't take long for Paul to shine, either. In 2014, by the end of his first year, he won Koorsen's "Tech of the Year" award—quite an achievement, considering Koorsen's many branches and associates serving the entire Midwest as well as some outlying states.
While he clearly came in as a star among security technicians, Paul still attests that during his time at Koorsen, "I've become a better tech than I ever was before. I'm better with customers and fellow team members as well."
As busy as Paul stays at work, he keeps himself equally busy at home as well. In addition to being a guitarist and music lover, Paul is quite the sports enthusiast, following the Reds and Bengals closely, as well as staying up on boxing. Paul also loves spending time with family and friends, whether it's taking his kids to Kings Island, or having everyone over to enjoy his family's "backyard paradise."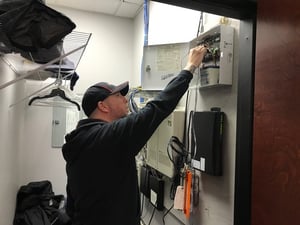 A Day in the Life of Security Installer & Service Technician
For Paul, as with many of our employees, his work day starts pretty early and stays pretty full. He clocks in around 7:45 every morning, and after saying a quick hello to fellow co-workers, he receives his service orders and hits the road.
We asked Paul to share some details of what his typical day might look like. He shared that his work days are divided "50/50" between service calls and installations, with some days devoted to numerous service calls, while other days are spent on a specific installation.
These days can include work on everything from commercial or residential security system installs, intrusion systems, CCTV cameras, service calls, and more. But, while Koorsen provides both commercial and residential security, Paul says that at the Cincinnati Branch, his time is focused more on residential customers than commercial.
On days that he is assigned to service calls, Paul tells us that he typically completes 4-6 separate calls a day, most commonly addressing cell issues and batteries.
On an install day, however, he tells us that he can spend half to a full day on a single install, depending on how complicated it is. For Paul, install days are his favorite, since he can "just be in one place planning my install and getting it done." He admits that one of the most rewarding parts of his job is when he gets to tackle a "challenging install and to look at it when it's done and say 'Yeah, I did that!'"
The systems Paul most frequently installs are the Honeywell VISTA-20P's and Honeywell VISTA 128's, though Honeywell Lyric systems are not uncommon.
Whether working on an install or service calls, Paul is up to his elbows in a variety of tools. Everything from an AES programmer, to impact drivers and special tech screwdrivers, to his Klein diagonal cutters (which he says he can't do without).
The ever-increasing rate of technological advances and changes in security technology also keep Paul on his toes to keep up. But Paul is up to the challenge, and even states that the constant technology changes are good, since "it pushes me to learn more devices, panels, programming, etc."
Besides the challenging install days, what Paul says he finds most rewarding about his daily work is that, at the end of the day, he knows "that I did my part in making sure a customer is safe" through quality materials and service.
Paul's Best Advice for Customers
As an experienced and top performing technician, we value Paul's insight and asked him some questions regarding his best advice for customers. Below are his responses:
Q: What question(s) do clients ask you most often? What is the answer?
A: "Most clients ask if we can add cameras or remote access for their security systems. I always tell them that, yes, we can set them up with Honeywell Total Connect and Total Connect Cameras or IP cameras with NVR access."
Q: What question should clients ask you, but don't? What is the answer?
A: Paul states that many customers should ask about upgrades. That or "what else can they add to their system, like Total Connect, or other wireless devices like carbon monoxide detectors. Most folks don't know they have so many options."
Q: What should clients know before buying or making a decision?
A: "That going with Koorsen is a great decision. We use the best products, great customer service, and our techs are top-notch."
Paul's Best Advice for Professionals
Besides just wanting to share Paul's expertise with customers, we wanted to also get some words of wisdom from him for other security tech professionals. Check out our questions and his answers below:
Q: What is your best advice for someone else in your position?
A: "Always be humble. Let veteran techs teach you new things. It is always beneficial to learn everything you can. And always remember to have fun! It makes a stressful day better."
Q: What do people who are trying to enter your profession need to know?
A: "That it is a career and you have to always have an open mind. Always be willing to learn more — the industry is always changing."
Paul's Thoughts on Working for Koorsen
We also asked Paul about his thoughts on working for Koorsen — what he has enjoyed most, where he sees himself with the company in the future, what advantages he has found working for us, etc. Here is what he had to share with us:
When asked what the advantage of working with Koorsen over the competition was, he proudly responded, "We are simply one of the best companies in our industry, and we definitely have some of the best techs, sales, and management."
Paul has embraced Koorsen and its work so much so that besides his family, he said that his greatest motivator to go to work each day was "the job and the people. I love what I do for a living."
Finally, we asked Paul where he hoped to see himself and his team in 5-years at Koorsen, to which he responded: "I hope our branch keeps getting bigger and better. And in 5 years, I would like to see myself more involved with security sales possibly."
Paul truly is a star technician on the Koorsen team, upholding our most prized values by always giving his best work, rising to new challenges, and being willing and eager to keep learning to better serve Koorsen and its customers.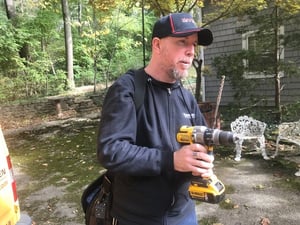 Need a New or Upgraded Security Systems?
Do you need a security system? Or perhaps your current one needs a face lift?
Experts at Koorsen, like Paul, are here and ready to help answer your questions, show you the possibilities, and make sure that only the very best products and service are used to protect your business or home.
Give Koorsen a call today to get started and find out more.