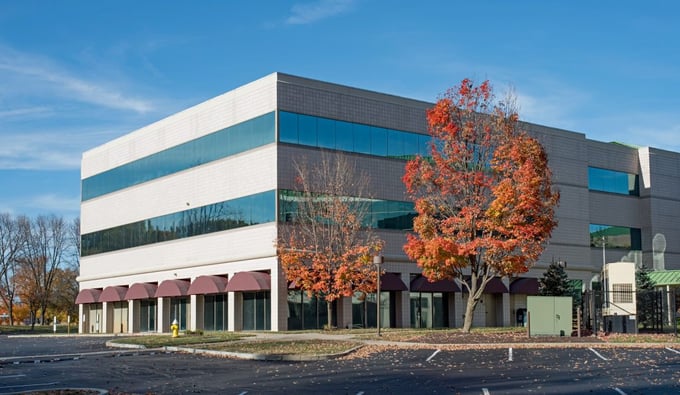 What is it like to manage a large office building in Columbus, Ohio? We recently sat down with David James, a lead engineer who manages and maintains an office building for Cushman & Wakefield in the Columbus neighborhood of Worthington. He talked about what a lead engineer's job entails and how Koorsen Fire & Security helped him ensure everybody in the building was safe, comfortable and happy.
Q: What are the responsibilities of a lead engineer?
A: As the lead engineer of this large office building, I make sure everybody that works here and visits here is safe and comfortable. I manage every aspect of the building from plumbing to heating to lighting to electricity and more. It is my job to keep everybody happy.
Q: What is most of your time spent on during a regular work day?
A: I've been working here for over five years and no day has been the same. My job keeps me on my toes as I deal with new challenges and issues every week. It's challenging but it's what I love most about this job.
The first thing I do in the morning is take a look at our Building Automation System (BAS) which controls practically everything in the building. I make sure the heating and cooling are set properly for that day's temperatures and humidity.
I deal with all requests, comments and feedback regarding our security and housekeeping teams. If there are problems, I help straighten them out and work with my teams to prevent further issues from happening. Beyond that, I work with all the office managers to alleviate any issues their team members may be having with computers, phones, cubicles and coworkers.
Q: What role does Koorsen play in helping you manage the building?
A: Koorsen takes care of the many security and fire protection aspects of this building. They maintain our Ansul fire suppression system in our kitchen. They perform annual inspections on our 109 fire extinguishers. They make sure the fire panel and the many peripherals of that system are up to code and compliant.
They also handle our entire security system, which includes over 300 surveillance cameras throughout the building. I know if I have a problem with any part our life safety systems, they'll act quickly and take the necessary steps to fix the problem.
Q: Have you always worked with Koorsen?
A: I've personally worked with Koorsen for over ten years. Prior to working with Koorsen at Cushman & Wakefield, I worked with them at the United States Trotting Association. Over the years I've worked with multiple vendors who have serviced parts of this office's fire protection and security systems. Koorsen has always been my favorite and is continuing to grow with us by providing us more products and services.
The benefits of working with Koorsen are that when I call them, I know things will be taken care of quickly and correctly. The technicians are always professional and knowledgeable in ensuring our building is safe and secure for our employees.
Q: How do you keep the building up to code?
A: We work closely with the Fire Chief Lieutenant of our local fire department. With fire codes and regulations changing constantly, he inspects our building regularly and makes us aware of things to address. Koorsen also helps me stay in the loop and up to code.
When Koorsen techs are working onsite, they are great at letting me know about potential compliance issues that need to be addressed. They are very knowledgeable on all aspects of the fire codes and help me stay in the know on code changes. When changes need to be made, Koorsen is quick to address them to keep our building up to code.
Q: What advice would you give to other lead engineers of offices and facilties?
A: The most important advice I can give is to listen. Listen to the people in your building. Listen to their issues not as complaints, but as ways to improve office life. When everyone is happy working here, it makes my job a lot easier.
For peace of mind, I would recommend working with Koorsen. I work with over 250 people in this building and deal with lots of issues on a daily basis. I know that I can count on Koorsen at any time, day or night, to take care of any issues with our fire or security systems. I trust them to get the job done, which allows me to focus on other areas of my job.
Q: Any final words?
A: I definitely see a perceived value in working with Koorsen. When I need something done, I call Koorsen and they do it right away-every time. When other engineers call me, I tell them "call Koorsen, it will be taken care of". That's how it is to work with Koorsen. I like that.

Are you looking for peace of mind in your job as a building engineer? Contact us today to learn more about our integrated fire and security offerings for office buildings and facilities of any size.