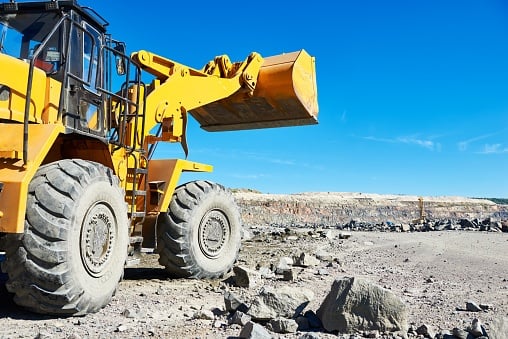 At Koorsen, due to our many years of experience installing and servicing vehicle fire suppression systems on the hardest working machinery in the world, we've made many improvements to the systems that few other competitors do. Many of these improvements are simple yet effective additions and changes that won't cost much additional money up front but can end up saving you a lot down the road. It's these improvements along with our excellent service and decades of experience that define what we call 'The Koorsen Difference'.
Using Risers for Linear Detection Wire
Every installer should be wrapping rubber sleeves around the linear detection wire at the tie down points. This prevents the wire from rubbing through and causing a false firing of the suppression system. We take it a step further by using risers to keep the entire run of the linear detection wire from touching or rubbing against any hoses or components. It's a simple addition that can save you money by greatly reducing wear and tear on the wire which can lead to false firings.
Linear Detection Wires Over Spot Detectors
While linear detection wire is just one option when it comes to detecting a fire on your heavy equipment, we think it's the best option. The other option is to use spot detectors. We can install or replace spot detectors but we don't recommend them. With spot detectors; engine dust, debris and temperature fluctuations over time can compromise the detectors causing them to fail during a fire. This can end up leading to a complete loss of your expensive equipment. With a properly installed linear detection wire, there is a very low risk of the wire failing during a fire. Also, with a linear detection wire, fires can be detected much more quickly due to the expanded reach of the wire over spot detectors.
Keeping Hoses Out of the Way for Mechanics
When we install a new fire suppression system on your heavy equipment, we carefully design the layout of the system and its components so they won't obstruct any of the engine components that require regular maintenance. As a result, mechanics and service technicians don't have to worry about accidentally compromising the suppression system during routine maintenance and repairs.
Flush Fitting Cable Ties
To tie down the wires of the fire suppression system, we use cable ties much like everyone else. But instead of leaving sharp ends on the tie downs, we use a tool to tension and cut the ends so they are flush and not protruding. For anyone who has worked around engines and components with cable ties know that the ends of the cut cable ties can be extremely sharp and cause severe cuts. By flush fitting the ties, there's no more risk of cuts. It's a simple step that our clients appreciate greatly.
These are just a few of the things we do that you'll only find from Koorsen. With our many years of experience installing, servicing and maintaining vehicle fire suppression systems; you can trust Koorsen to protect your equipment and your people.
HAVE A QUESTION?
Need immediate service, interested in our Vehicle Fire Suppression solutions or simply want a quote? No problem! Contact us below and we'll get back to you as soon as possible. You can also call us at 855-202-8148.