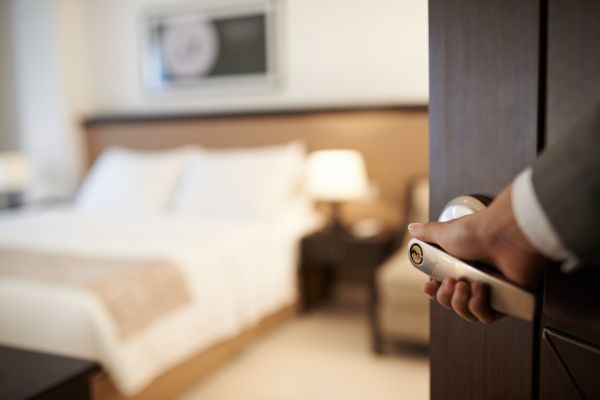 ENSURING THE SAFETY OF STAFF AND GUESTS 24/7/365
A hotel is constantly occupied by staff and guests at all times of the day and night, which is why proper fire protection and life safety services are important. As General Manager of the Holiday Inn Columbus Downtown - Capitol Square, Tyson Schweitzer recognizes the importance of not only keeping his guests happy, but also safe. With a team of seven managers, Schweitzer oversees the day-to-day operations of the hotel from a customer service and operational standpoint.
STRICT LIFE SAFETY GUIDELINES
One duty of Schweitzer's is maintaining the hotel's life safety systems. This includes managing the maintenance and testing of the fire detection systems, fire sprinklers, fire extinguishers, and suppression systems. InterContinental Hotels Group, which is the parent company of Holiday Inn, has strict guidelines for maintaining the life safety systems above and beyond that of the National Fire Protection Association (NFPA). This includes having the systems inspected and tested by a third party vendor, which are the services Koorsen Fire & Security provides for Schweitzer.
Schweitzer and Koorsen not only have to ensure all the fire and life safety elements are properly maintained and tested to pass inspections by the Columbus and Ohio Fire Marshals, but also by InterContinental Hotels Group's Quality Assurance Team. The Quality Assurance Team regularly checks the condition and cleanliness of the property and guest rooms, as well as reviews the life safety documentation to ensure that everything is up-to-date and compliant.
WHEN IS THE BEST TIME TO TEST FIRE SYSTEMS AT A HOTEL?
As Schweitzer would tell you, "In a hotel, there is never a good time to sound the fire alarms. You can't do it at night because guests are sleeping. You can't do it in the morning because some guests may be late sleepers." Schweitzer has learned over the years that 11am is a good time to test the fire alarms. By then, the late sleepers are all up and most guests have left the hotel. Schweitzer says, "Even with clear communications with your guests, you will still have some that are startled. Again, there is no perfect time."
The most difficult testing is sensitivity testing, where technicians have to access every room to test all the devices. With over 70 years of experience, Koorsen has improved its processes for hotel testing and has been able to lessen the inconvenience on guests. Schweitzer notes that, "the best advice for testing life safety systems in a hotel is to properly and clearly communicate with your guests that you will be testing the life safety systems."
CATCHING UP AND STAYING AHEAD
Schweitzer has come to appreciate Koorsen's work ethic and commitment to safety. "Not only does Koorsen keep all the life safety systems current and compliant, they also provide clear documentation for me to provide to the inspectors," Schweitzer notes. Before Schweitzer partnered with Koorsen, he relied on another vendor who had missed the dates for testing and had failed to update systems to code. Unfortunately, this wasn't brought to light by the vendor, but by the Fire Marshal. As a result, Schweitzer turned to Koorsen to perform the annual fire pump flow test and inspect the kitchen fire suppression system with a short deadline of 10 days.
"With the clock ticking, Koorsen had technicians out the next day, a Saturday, to perform the tests and meet the fire marshal's requests," Schweitzer recalls.
Because of Schweitzer's previous satisfactory experience with Koorsen Fire & Security, Koorsen eventually became the main vendor for maintaining and testing all the life safety systems at the hotel. Koorsen updated the old fire panels and fire detection systems to current standards, and they continue to maintain and test the systems, ensuring all future inspections go smoothly.
"Since Koorsen took over maintaining, updating, and testing the life safety systems; the hotel hasn't missed any inspections and hasn't had any dings from the Fire Marshals. When you're dealing with a hotel where your guests are at their most vulnerable sleeping at night, you need a fire protection partner that you can trust. With Koorsen, I found that partner." - Tyson Schweitzer
WORKING WITH PROS MAKES YOUR WORK EASIER
While Schweitzer has worked with many other life safety companies over the years, including some of the bigger national brands, none of them have operated as seamlessly as Koorsen. Schweitzer said that many of the other companies suffer from a lack of communication within their company, which resulted in miscommunication and lots of hiccups. With past vendors, Schweitzer would be passed off to other people when the person he was talking to was unable to help. With Koorsen, Schweitzer has never experienced this problem.
"Everybody is friendly and professional and always get the job done. Even if the technician or staff can't do it, they know which Koorsen team member to contact to get it done." - Tyson Schweitzer
CHOOSING YOUR LIFE SAFETY SYSTEMS PROVIDER
From his many years of experience in property management, Schweitzer has learned a thing or two about what to look for when bidding for a life safety systems provider. While the bid process can sometimes be overwhelming, Schweitzer offered some advice to make choosing the best provider for your business an easier process.
"When looking for a fire protection and life safety provider, look for reputable companies that are big enough to handle all your needs." - Tyson Schweitzer
Schweitzer notes that while there are a lot of small and independent companies out there, many of them don't have the resources and expertise to handle everything. When dealing with life safety systems, Schweitzer says that he doesn't have time to wait for repairs or to search for another vendor that can handle something the current vendor can't.
"This isn't a leaky faucet or a light bulb that's not working. So make sure that the knowledge, the reputation, and the resources of the life safety systems provider exceeds your expectations." - Tyson Schweitzer
With over 70 years in the business, Koorsen has the knowledge, expertise and resources to handle all of the hotel's life safety needs. As the hotel has expanded, most recently with the addition of a new restaurant, Koorsen has worked closely with the hotel's contractors to ensure that the fire protection and suppression systems were designed according to city and state codes.
"It's Koorsen's attention to detail and devotion to our ongoing business growth that make my job much easier and much less stressful." - Tyson Schweitzer
RESPONSIVE, DEDICATED AND TRUSTING
"Responsive, dedicated, trusting are the words that best characterize Koorsen." - Tyson Schweitzer
"When I need something done quickly, Koorsen always responds immediately. It doesn't matter who I call, they get the job done or contact the appropriate team member to get it done," Schweitzer says.
Schweitzer explains, "Just as important as responsiveness, is dedication. Koorsen is dedicated to doing the best job and ensuring that I'm happy. This includes educating and training me on the hotel's life safety systems. They've helped me understand the many choices when it comes to upgrading and updating our life safety systems."
According to Schweitzer, Koorsen went above and beyond during the bid process. "They walked me through not only the systems they were proposing, but the systems their competitors were proposing. They pointed out the advantages of each system and were honest in giving an unbiased opinion on each."
It was this honesty that Schweitzer appreciated which ultimately led to him and the hotel choosing to partner with Koorsen for all of their life safety needs.
"I didn't worry that Koorsen was going to overcharge me. I relied on and trusted Koorsen to always do the right thing." - Tyson Schweitzer
Responsive. Dedicated. Trusting. It's what Schweitzer sees in Koorsen and it's what Koorsen focuses on delivering to Schweitzer and all of their valued customers every day.
If you're a fellow hotel general manager, like Schweitzer, or a property manager that is looking for an experienced and knowledgeable life safety systems provider, contact Koorsen Fire & Security today.