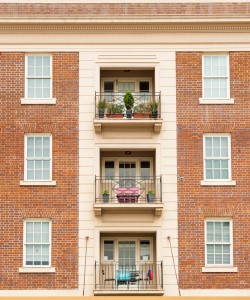 As a property manager, you have several specific responsibilities to your properties and tenants to ensure complete fire safety. But, what is your responsibility and what is the responsibility of the tenant? Before opening up your building to occupants and tenants, bring in a professional trained in fire protection and code compliance to perform a fire risk assessment.
A fire risk assessment will identify the fire hazards, which have potential to cause any injuries and costly fire damage, identify what measures are already in place to avoid a fire and, lastly, identify additional precautions that need to be taken.
Customize your fire safety system for your properties by tackling each of the following tasks:
Determine fire evacuation procedures.
Not only do property managers need to guarantee all emergency exits are clearly marked, but also that residents have a clear diagram of how and where to exit. Ensure all occupants of your building know what the fire procedure is and are made aware of the fire exit routes and where to assemble while waiting for emergency crews.
Perform fire evacuation drills.
Test your emergency plan. Time the evacuation drill, ensure the designated last person leaving the building signals the building has been evacuated and check that all residents know where to assemble outside the building.
Keep up with regular fire safety maintenance.
Routine testing and inspection of fire safety equipment is a requirement of NFPA. Koorsen's trained technicians can come to your building(s) to perform all weekly, monthly and annual service and inspections on fire safety equipment including fire extinguishers, emergency & exit lighting, fire suppression systems and sprinkler systems.
Encourage tenants to report all issues and potential building risks.
Even if tenants see or witness issues that don't directly affect them, property managers should encourage tenants to report all known building issues. Property managers should encourage tenants to see the building as a whole, acting in the best interest of all the building occupants at all times.
Require tenants to carry rental insurance.
Specifically for residential buildings, property managers can require renters to carry rental insurance to not only protect them, but also protect other residents within the building. Property managers can protect their property and tenants by making fire safety a priority and mandating a level of renter's insurance.
Knowing every regulation and requirement for each type of building and location can be a burden for property managers. Koorsen's customized fire and security solutions can keep your team compliant with local and national regulations by providing service and inspection of all life safety equipment. NICET-certified, factory-trained engineers and technicians ensure your facility is secure and you have access to professional, quick attention 24/7. Services include:
Fire extinguishers
Emergency and exit lighting
Fire alarm systems
Sprinkler systems
Kitchen fire suppression systems
Fire suppression systems
Security systems
Monitoring
Emergency notification systems
Provide immediate protection to your building occupants; contact a Koorsen expert to get started on your customized fire and security system.