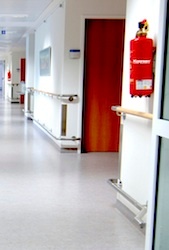 How did your healthcare facility do during its last Joint Commission survey?
Is your facility up to date on NFPA standards? Many healthcare facilities are working from the NFPA 101 issued in 2000, which is fine for now but could lead to some serious headaches in the near future, when all healthcare facilities will be required to follow the 2012 edition. That's going to mean 12 years of updates to address.
A process that is already stressful turns into a disaster if you don't plan accordingly. Follow these steps to keep your healthcare facility complaint now and in the future.
Make sure all your records are in order.
Failing to keep your inspection records in line with the Joint Commission's record-keeping requirements is a sure way to get off on the wrong foot. Unfortunately, you can't necessarily assume that your life safety vendor is completing your records to the standards required by the Joint Commission. Very few life safety vendors stay current on all the rules and regulations set forth by the Joint Commission. Make sure you're working with a vendor that is an official Joint Commission Resource to avoid headaches down the road.
Inventory every device.
The Joint Commission requires that every single life safety device in your facility is inspected routinely and accounted for in an inventory list. The Joint Commission often surveys the nooks and crannies of a facility and checks inspection records on items that are often forgotten about. Your facility will be penalized if even the smallest life safety device is not represented on your life safety inventory.
Time your inspections properly.
On a monthly inspection, the Joint Commission surveyor checks all paperwork and tags to ensure the gap between inspections is no less than 20 days and no more than 40 days. When you're selecting a life safety vendor, make sure their inspection schedule is in line with the Joint Commission's requirements.
Know the rules, or partner with someone who does.
The Joint Commission has an ever-changing list of rules and regulations. Staying on top of them is a big job, but failing to do so can drastically impair your facility—and your budget. For example, the Joint Commission's four-hour rule states that after any four-hour impairment in fire sprinkler or alarm systems, the healthcare facility must implement a fire watch, hold extra training and drills, and file an Electronic Statement of Conditions (E-SOC). Meeting this requirement takes a tremendous amount of time, energy, and resources. A life safety vendor that's a Joint Commission Resource knows to keep any service to those systems under four hours if at all possible.
Maintaining compliance can become a tremendous chore. Koorsen Fire & Security's team of NICET-certified and factory-trained engineers and technicians has the knowledge and expertise to act as your Joint Commission Resource and to ensure that your employees and patients are safe—and your facility is compliant with local regulations as well as those from NFPA, OSHA, and The Joint Commission.