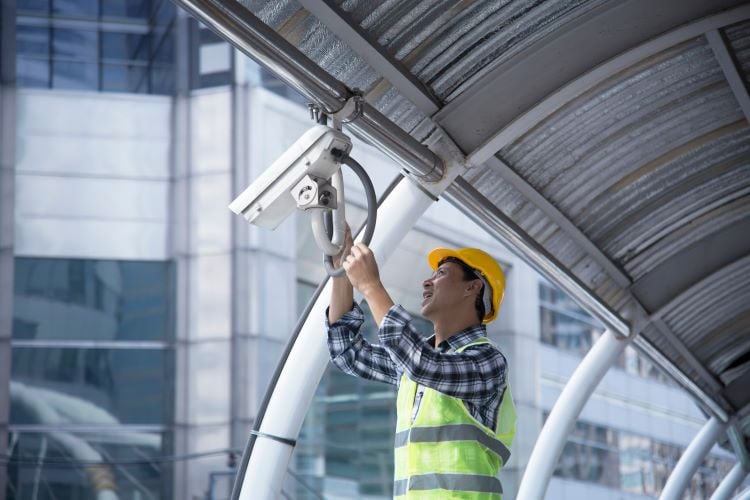 According to the Office of Victims of Crime, about 28.4% of all US burglaries occur at non-residential properties. Even more saddening, Small Business trends notes that many owners pay as high as $8000 to settle issues after theft or burglary.
As a business owner that wants to make a profit, those are some statistics that should move you to action. The truth is, every small business today faces this unique security challenge. While we sleep at night, thieves and burglars roam the street looking for vulnerable stores to loot. Unfortunately, while these thieves leave behind substantial damage, the damage is not always severe enough for the business owners to request insurance claims. In the end, the business owners have to pay from their purse.
So, what is the way out? The best way to solve these security challenges is to install a business security system. For many business owners, there are two ways to do this. You could choose to do it yourself, or you can have a professional installer do the job. Since each installation type comes with its benefits and demerits, you might want to know which is best for you.
This article will compare both choices and help you see why a professional security system installer, like Koorsen Fire & Security, is the better choice.
DIY Security System Versus Choosing a Professional Installer
While Do it yourself (DIY) security system installation works for some people, it might not be the right step for you. When choosing what is best for your business, you should consider many things, including your preference and your business's safety.
For people who chose the DIY path, the primary motivation is usually cost. When you install the systems yourself, you avoid paying for labor and installation fees. Similarly, you do not have to buy expensive equipment to get the job done. Since you are doing the job yourself, you get to pick what you want, and you can design the system to match your pocket size. One other advantage is that you do not have to wait for your installer to be free. You can start your job any time you want without having any strangers inside your office area.
While doing it yourself comes with the above advantages, the following are some installation difficulties that come with it:
You need a level of technical know-how: The process of installation will require a level of knowledge. You need to know how to assemble some things, mount some of the equipment, and most importantly, connect them with wires. When you do things yourself without having this basic knowledge, you could ruin things, injure yourself or even damage electrical systems in your office. This is why you should allow professionals like Koorsen Fire & Security to handle the job, especially if your business requires an extensive system.

There are no expert recommendations: A professional installer, asides from his installation work, will give you some advice to give you the best results based on his knowledge and experience. Unfortunately, doing it yourself means you won't have access to ask for the best practices for your safety and the system's effectiveness.

DIY is without warranty: Since you did the installation yourself, you will not have access to warranties that usually come with professional installations. So, when the system stops working, you cannot call for professional support. Instead, you will have to start repairing things yourself which can be stressful and lead to more damage to the system.

The cost of failure: the main reason for installing a business security system is to monitor your environment. No matter how cheap you have gotten the system, it becomes useless when it fails to do what you need it to do. While DIY comes cheap, most of the time, it might be ineffective. In the end, its failure and ineffectiveness would be more costly compared with getting professional installation in the first place.
Benefits of Professional Installation
When you use a professional installer like Koorsen Fire & Security, you gain the following benefits:
The professional installation comes with many options for customization. For instance, you can connect the system with a fire protection system.

You get access control system options.

The equipment and cameras used are of a commercial grade for better efficiency.

You always have access to professional support.

The installer can help get the proper license and permits with your city or county.

You can easily upgrade the system in the future.
Get a Free Quote Today for Your Business Security System
Contact Koorsen Fire & Security today to learn about the many options and choices you have to secure and protect your business properly. Our security experts can help you determine the best security system for your exact business needs. From a simple camera and intrusion security system to a more advanced multi-camera, access control, intrusion security system tied into your fire protection system, we can outfit your business with the best commercial security products in the market. With over 75 years of experience in the fire and security business, you can trust Koorsen Fire & Security to protect and secure your business.