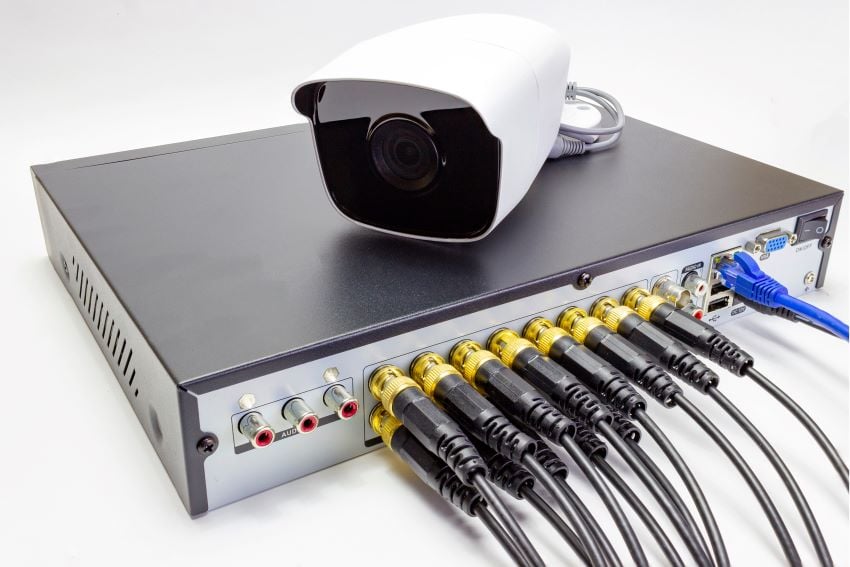 Video surveillance systems can help reduce or detect certain crimes in an organization, which is why most organizations choose to install them. But, when shopping for the right security camera, you have many different choices. One of those choices is between an NVR (Network video recorder) or a DVR (Digital video recorder). So how do you know which one is ideal for your business?
Network Video Recorder (NVR):
Network video recorders use software that enables video recording from an IP camera and stores the recordings into multiple devices like USB flash drives, computer hard drives, disks, or cloud storage. It uses an Ethernet cable to provide power, audio, and video surveillance for the system. Each camera comes with its internet protocol (IP) or POE cameras which can process video and stream it to the NVR system for storage. NVR storage devices can be placed outside the facility as an extra measure to prevent intruders and unauthorized personnel from gaining access to the data stored in it.
Pros:
Data from the video surveillance can be stored within or outside the organization (in the cloud) as an extra measure to safeguard valuable information.

It is a newer technology than the DVR and has quality video recording and newer capabilities like audio recording.

It is much more flexible and can access real-time information about what is going on in the organization.

It can be wired or wireless, giving you flexibility, unlike the DVR.

It does not require a wall socket, unlike DVR.
Cons:
It is expensive, and the pricing might not be ideal for small business owners.

The software can be harder to use and might require some expertise.

Additional costs from the cloud hosting company would increase your expenses.

Slow internet speed would affect the usability of the technology.
Digital Video Record (DVR):
DVR systems are low-cost video surveillance alternatives to NVRs. Although they are limited in capacity, they can help secure your home or small business and provide information when there is a break-in or theft. Unlike the NVR, DVR uses analog cameras to record and monitor the area within its view. The analog camera streams an analog signal to the record, which then processes the image. It transmits video by a coaxial cable which results in low-resolution images. Also, the DVR recorder does not produce power, so each camera has to connect to a power switch. DVR relays its videos on an AD encoder which processes the raw data from the streaming camera into legible video recording.
Pros
It is ideal for small businesses looking for low-cost security surveillance.

It is easy to operate and might not need any unique expertise.

It would be ideal in areas with a low bandwidth internet connection.
Cons
It produces lower image quality compared to the NVR system, which is newer and advanced in technology.

DVR systems require more cable and wires since you need a separate power source which means you will lose streaming if one of the cables disconnects.

DVR systems typically cover less area compared to IP cameras in the exact location.

Since it is an old technology, it has fewer features and less flexibility than NVR systems.
Get a Free Quote for your Business Security System
Contact Koorsen Fire & Security today to learn about the many options and choices you have to secure and protect your business properly. Our security experts can help you determine the best security system for your exact business needs. From a simple camera and intrusion security system to a more advanced multi-camera, access control, intrusion security system tied into your fire protection system, we can outfit your business with the best commercial security products in the market.