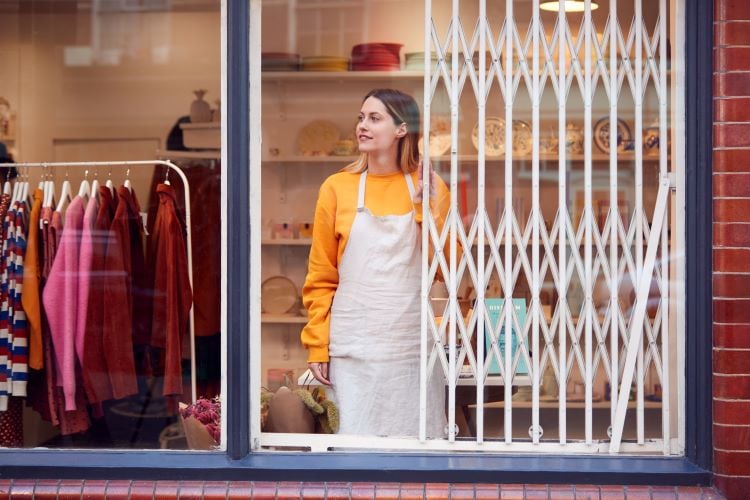 The importance of good security architecture in a business can't be overestimated. Yearly, businesses lose billions of dollars to burglars, with small businesses being the most affected. In 2020 alone, about 50% of small businesses had experienced burglary or theft. These crimes resulted in losses of over 12.5 billion dollars.
The effect of theft goes past just loss in revenue or product or services; it affects customers, employees, and management. It can even lead to the shutdown of the business.
So how can small businesses prevent crime and keep their businesses burglar-proof?
1. Security Cameras
Security cameras are a critical tool for small businesses to detect, curb and prevent theft. Formal professional burglars said they would most likely target companies or homes without surveillance cameras making the cameras a very effective burglar deterrent. Surveillance cameras ensure that your property is being watched 24/7. This is beneficial, especially if the location of the business is in a vulnerable environment. Most security cameras can detect motion and record and notify you or the police if they spot anything.
Cameras can also help in gathering evidence. At times the only hope for a business after an attack is to apprehend the attackers after the theft. Security cameras should not only be installed inside your business but outside as well to help monitor the surroundings.
2. Burglar Alarm
Burglar alarms consist of sensors throughout the property that detect intrusions through doors, windows, skylights, and other potential entry points. The alarm usually consists of a loud horn that alerts people nearby of unauthorized entry. The system also has the ability to alert the monitoring company and authorities that a potential break-in may be occurring.
Burglar alarms are essential because break-ins are disastrous for small businesses, and swift action is needed when it occurs.
3. Access Control
Access control systems allow businesses to control who can enter their buildings and facilities and when. While most people are familiar with access control systems at entrances to buildings, access control systems can also be utilized throughout a business to restrict access to certain rooms, floors, and even file cabinets. Access control systems can also allow a business owner to monitor when employees arrive and leave work.
4. Doors and windows
Windows and doors are the entry points into a building, and you must secure them. You should count spare keys to your doors regularly. Burglars take advantage of any slight vulnerability, and a misplaced key would be a blessing to them. The management team should also ensure that only trustworthy staff are with the keys to any doors to prevent collaboration with thieves. You should also try to educate your employees with keys so they understand how burglars work. When keys are misplaced, you should change the locks as soon as possible. All doors should be checked and appropriately inspected before leaving the premises. For a more effective way of managing access to your building, you may want to look into access control systems that use cards or badges to enter versus keys.
5. Lighting System:
Nobody wants to be seen when they are doing something criminal, including burglars. Having an adequate lighting system on your premises puts the criminals in the spotlight. Therefore, you should arrange the indoor lighting such that passers-by or the police can spot anyone inside. You should also ensure that the exterior entry areas of your business are well lit up at night.
6. Educate Your Staff:
Finally, it would be best if you educated your employees on all the things mentioned above. When it comes to small business security, there are no fail-safe ways to stop criminal activity. However, when you combine different methods and approaches, you can further reduce the risk of burglary at your business.
Contact the Small Business Security Pros at Koorsen
For over 75 years, the fire and security experts at Koorsen have helped protect and secure small businesses like yours. To learn more about protecting and securing your business, contact Koorsen today. We can help develop a customized solution to meet your exact needs.