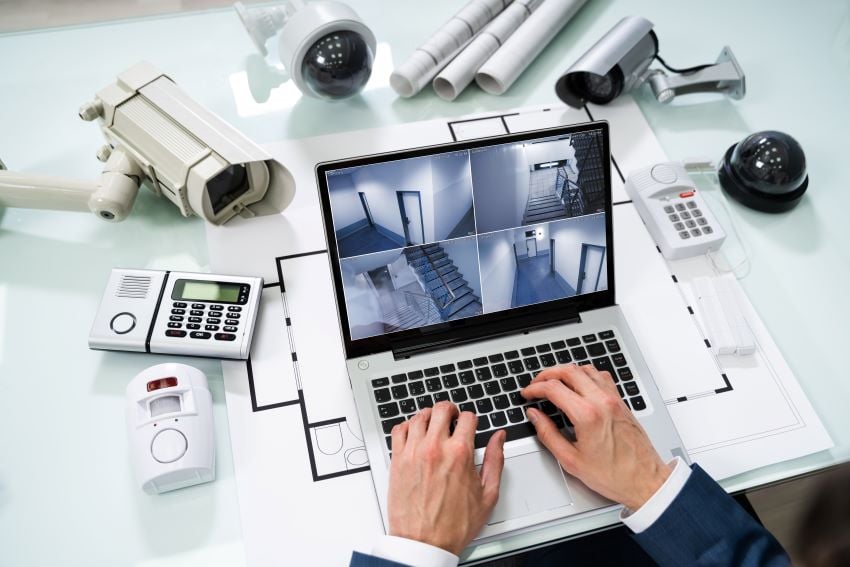 The right commercial video surveillance system can help protect your business from burglaries, employee theft, fires, or floods. Small business owners who are considering purchasing a video surveillance system should first know the types of systems and cameras available for purchase.
Best Camera Options
First, you need to establish the kind of camera that works best for your business, either analog or IP. IP cameras are more modern and offer a number of distinct features that traditional analog cameras do not, but each type offers advantages. Here are a few significant differences between the two:
AFFORDABILITY & RANGE: IP cameras are more modern, but they are also more expensive than analog cameras. However, IP cameras have a wider field of vision, so a security system outfitted with IP cameras will require fewer lenses than a system with analog cameras. This means IP cameras are a better option for businesses with a lot of space to cover.

RESOLUTION: IP cameras offer a resolution between 1 megapixel and 5 megapixels, while analog cameras usually shoot at a resolution of around 0.5 megapixels.





VIDEO ANALYTICS: IP cameras offer analytic features that analog cameras don't, such as mobile notifications automatic recording when the camera senses movement, and direct reporting to law enforcement.
Other types of cameras include bullet cameras, dome cameras, box cameras, and PTZ cameras. After establishing the kind of camera to use, it's time to choose an appropriate video recording system for your business.
Video Recording Systems
Digital Video Recorders (DVRs)
Using either an analog or IP-based recorder, DVRs record video in a digital format, allowing you to find footage for each specific date, time, and camera. DVRs are affordable and straightforward to integrate, but they require more cabling and can only handle a limited number of physical camera inputs.
Hybrid Video Recorders (HVRs)
HVRs can support analog cameras, a small group of IP cameras, and a few higher-resolution cameras equal to or greater than 1080P, but they can't support most high megapixel IP cameras. They also require more space for equipment and cost more than DVRs.
Network Video Recorders (NVRs)
NVRs are a software format that records your footage digitally, so the recorder doesn't need to be attached to a camera. This means that as long as they are on the same LAN Network as IP cameras, you can store NVR units anywhere. NVRs can capture HD-quality footage but require a relatively high level of network bandwidth.
Video Management Software (VMS) Systems
VMS systems use enhanced IP cameras and allow video encoders to add older or existing cameras to your network. While VMS systems can be comparatively expensive, they are ideal for business owners who plan to add additional locations or cameras to their network over time.
Trust the Security Experts at Koorsen Fire and Security
At Koorsen, our experts can design, install, service and maintain your commercial and residential security systems. We have the knowledge, experience, and know-how to completely secure and protect businesses of every size with a range of solutions. Keep your assets safe and secure with the latest security technology. Contact us today about total security solutions for your business or home.
Founded in Indianapolis, Koorsen Fire & Security As one of the leading commercial security companies serving the Midwest and South, Koorsen Fire & Security has humble beginnings that began in Indianapolis, Indiana, in 1946. Over 75 years later, you will find our security professionals serving businesses in communities like Ft. Wayne, Evansville, Bloomington, Terre Haute, Cincinnati, Columbus, Akron, Louisville, Lexington, Nashville, Huntsville, and every town in between.