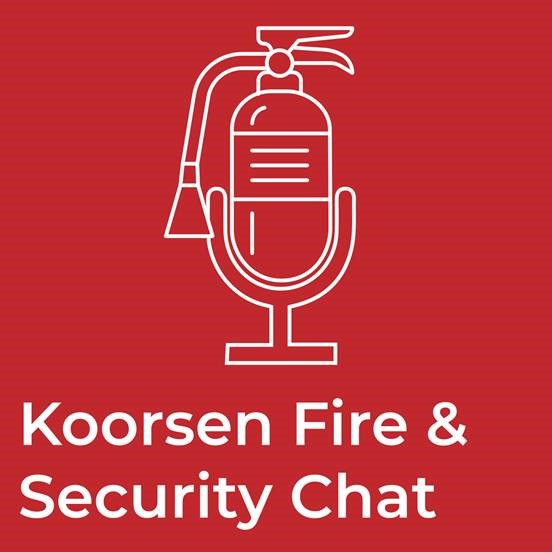 On this episode of the Koorsen Fire & Security Chat, we talk with Chris White, Clean Agent Corporate Trainer at Koorsen Fire & Security about clean agent fire suppression systems.
A clean agent fire suppression systems are designed to protect from fire rooms and equipment that one doesn't want to get wet from a fire sprinkler system. You will find clean agent suppression systems installed to protect server rooms, telecommunication equipment, museums, laboratories, MRI rooms, libraries and other areas with sensitive equipment or items.
In this episode, we will talk about the basics of a fire suppression system. We will learn about the different types of clean agents, how they suppress the fire, and the benefits of the fire suppression system. Join us as we are introduced to clean agent fire suppression sytems. You can listen to the episode right below or click on your favorite podcast player to listen to it from there.
Subscribe to the Koorsen Fire & Security Chat in your favorite podcast player:
Apple Podcasts | Pocket Casts | Google Podcasts | Spotify | Stitcher
LEARN MORE ABOUT FIRE SUPPRESSION SYSTEMS
If you're interested in learning more about clean agent fire suppression systems, contact the fire suppression professionals at Koorsen Fire & Security. Our highly trained technicians can design, install, service and maintain a fire suppression system that fits your business's exact needs.
TRANSCRIPT:
Aaron: Welcome to Koorsen Fire & Security Chat brought to you by Koorsen Fire & Security where we talk about the technology and equipment used to protect and secure life and property. I'm your host, Aaron Whitaker. And today I'm with Chris White, Clean Agent Corporate Trainer at Koorsen Fire & Security at our corporate training facility. Today, we're going to talk about fire suppression basics. In later podcasts we'll kind of dive deeper into fire suppression systems, more of the details. But for today I'd like to talk about the common questions people have about the systems.
Chris: Okay.
Aaron: I guess the first question is, your title is clean agent corporate trainer?
Chris: I'm the clean agent corporate trainer for all of our branches here at Koorsen Fire & Security, housed right here in Indianapolis at our corporate training center. I've been in this role for, about 10 years, something like that. So about half of my career at Koorsen, I've been in this role.
Aaron: Okay. So the first question would be, what is clean agent? What does that mean?
Chris: So a clean agent, what that means is it's a gas system. So that means it's going to be electrically non conducting leaving no residue upon evaporation. So you have basically two different types of clean agents, more or less. When we're talking about actual clean agents not CO2, you have your chemicals, which is like your 3M™ Novec™ 1230 Fire Protection Fluid, your FM-200. Those are going to be liquefied, compressed gases in the cylinder and then when they discharge, and it does not matter how big or small those cylinders are, they all have to discharge within 10 seconds. And the reason behind that is to ensure that the chemical agents are discharging as a gas when they're coming out of the nozzle. And then you have what they're called the inerts, which are natural gases in the atmosphere to begin with. But they are actually stored in the cylinder as a gas and they discharge actually as a gas. So typically we want, because of the pressure and that type of thing, we want them to be discharging anywhere between 60 to 120 seconds.
Aaron: Okay. So we're looking at fire suppression systems and there's clean agent. Is there other types of fire suppression besides clean agent or is that one in the same?
Chris: Well, it's, it's kind of a generalization term because actually fire suppression is also...you have fire suppression systems, it doesn't matter if it's foam, water, sprinkler, clean agents, CO2. All those systems still for the detection and control all have to reference back to NFPA 72 which is the national signaling fire code for fire alarm panels that everybody kind of follows. So in the definition of that, it's actually determined as a fire extinguishing. It's kind of a broad spectrum, but the fire suppression, in and of itself, can be water protection, it actually can be foam. In some instances it may even be some kind of industrial dry chem. But typically when you say fire suppression, most everybody is thinking about a clean agent system or a CO2 system. But again, you've got some other aspects in there that's really considered fire suppression suppression.
Aaron: So, how long have suppression systems, clean agent systems been around.
Chris: Clean agent systems themselves have actually been around since about the early to mid sixties. That is when a halon 1301 was first kind of introduced into the market and by the early seventies, somewhere around there, early seventies, mid seventies, it seemed like everybody and anybody felt like they needed a halon 1301 system. Back in my early career at Koorsen when I was the suppression tech doing all the suppression systems for the Indianapolis Branch, it was not uncommon to go into some of these older halon systems and they were protecting storage rooms with paper and pens and paperclips. And it was just kind of a shock that those customers wanted the halon because they didn't want that stuff to get quote unquote wet. It wasn't necessarily the right application for the halon but that's how prevalent it had been.
Chris: And then there had been documentation, I had never been there, so I have to take for what was documented as the truth, but supposedly, there was the hole over the ozone over Antarctica and some really smart people, scientists and all that, started doing some testing and they found that some of our air salt sprays and some of our refrigerants and that type of thing was actually causing the depletion of the ozone. And so along with some of those other substances, Halon 1301 was actually put on the Montreal Protocol around 1987, and Halon 1301 as we know it had been totally discontinued in 1994. And what I mean by that is, is it was totally stopped being manufactured. And so then once the industry knew that was coming down the pike, we started looking at other substances, other molecular structures and all those type of things.
Chris: And that's really kind of where FM-200 came into play. So Halon itself was probably the, really the first one to be really used commercially and industrial and all that from the 60s until the late eighties, early nineties. But here's the crazy thing is, so one of the things that we did not know at that point in time was during World War II and I think the gentleman's name was Chris Lamberson, he was like a breathing doctor or something. So during World War Two, we had the Germans that were blowing up our boats and all that. And so we needed to find a way to have our men that were fighting to be able to go underwater and plant the bombs on these uboats to blow him up.
Chris: Little bit did anybody really know that he actually came up with the mixture of the Inergen, which is 52% nitrogen, 40% argon and 8% CO2. That's actually, from what I've been told, was the mixture that they used for the frog men for them to breathe under water. And then we didn't really know that it can be used for fire protection until about the mid nineties.
Aaron: So halon, it's no longer produced. Is it banned or are there still systems out there with existing halon?
Chris: Yeah, with the way the United States is, so with discontinuation of Halon 1301 was introduced in 1987 with the Montreal Protocol. You had some other things that came down the pike, like the Kyoto Earth Summit and the Rio Earth Summit and some of these other things. So some of the other countries like Denmark made it that by a certain year, no matter what, you had got to get rid of the halon. United States never have done that. So we actually still have some customers today, that are Koorsen Fire & Security customers that actually still have their Halon 1301. There's nothing that mandates that they have to get rid of it. But the truth of the matter is they are really on borrowed time because once the agent stopped being produced, the design programs and all those other things to ensure that we have the proper design concentration and the flow of the agent and all those other things, manufacturers stopped supporting it. So getting parts that are compatible, that are are properly listed, and all of those types of things, you just can't get them anymore.
Chris: So I guess the long answer to your question, do you have to upgrade if you have a halon 1301, no you don't really have to upgrade but the reality of it is you're really on borrowed time and you kind of really need to think about the big picture. Are these systems cheap? Most cases, no they're not. But you also have to think about return on your investment. What am I actually wanting to protect with this clean agent? Because that's a benefit of clean agents. Something I didn't mention earlier, but clean agents, because they're discharged and as a gas, they're three dimensional. So they're going to penetrate underneath the sub floor, into your server cabinets, underneath desks and all those type of things. Where as water, it's going to sound like I'm bashing sprinkler systems, so if they end up listening to this podcast and think I'm doing that, that's further from the truth.
Chris: But the reality of it is sprinkler water is not three dimensional. It hits a flat surface and runs off. So again, you kind of have to really just think about your return on your investment is what happens. Can you really put a dollar amount on your downtime? And also some facilities are kind of mandated by the authority having jurisdiction, usually insurance, no for insurance rates and those types of things. So basically what I'm saying, there's really, I mean, because you have a halon 1301 system, you don't have to upgrade it, but you really need to think about your long term future because, if something were to transpire, whether you had a true discharge or an unwanted discharge or a leaking cylinder, it may not be able to get it serviced and now you're stuck doing fire watch or whatever until you can get the system up already. So why not start thinking about it in the future and get that done ahead of time.
Aaron: So if it is discharged, then you can't refill it because halon is not produced anymore. You said since 1994. If a halon system is discharged or the tank's empty, is there a way to refill it? Is there still like a minute amount of halon still available?
Chris: Yeah, there's still some available. There are recharge companies throughout the country that, kind of specialize in that. How much do they have? I don't have any idea. So at some point in time they probably are going to eventually totally run out of it. But there are still some companies that can recharge the halon 1301 systems. But again, if you can't get the proper rebuild kits, depending on how old it is, you've got some o rings and stuff that are inside. I mean, you may get it recharged and all of a sudden your service companies shows back up six months later. Hey, your tanks leaking. It's nobody's fault. It's just because of the age of the equipment.
Aaron: Where would you typically find a clean agent system installed?
Chris: Primarily where you're going to see them is in like telecommunications or IT server or computer rooms. You may very well also see them in archive rooms where they don't want some very pricey items damaged. Museums, libraries, laboratories, you may see them in. You can see them sometimes in battery rooms, clean rooms. You may see them in MRI rooms, CT, cat scan, basically wherever somebody thinks they do not want this stuff to get wet. We can't afford to be down. The value of this is irreplaceable as far as the materialistic portion of it because some people kind of get the misconception from, like watching the movies, right?
Chris: I'm always like to use this example in some of the training classes I teach, but you've got the good guy running from the bad guy and he's in this building and he's got the bad guy shooting at him and everybody's screaming and he sees the hot chicks chewing the gum and kisses her and takes her gum and grabs some guy's cigarette and takes the gum, sticks it on a cigarette, on the sprinkler and boom, the entire building. Now that's not the way it works. So because it takes heat to generate before the sprinkler activates. Well if you think about it in especially your high valuable electronic devices, everybody's always thinking about the actual hardware. But the one question I always pose that I have posed to other customers who have had conversations I've done training for and all that, can you put a dollar amount...
Chris: Can you put a dollar amount on your downtime? If you don't know the answer to that, then you're really not doing yourself any service because that downtime is not only downtime of the equipment, actually being down in your server room, some of these server rooms are the heart and soul of the entire operation. You go to some of these industries, that server room, believe it or not, is actually what's allowing all the production lines out in the factory to run. Yeah, so it goes down. Now you're not being able to produce your widgets or parts or pieces or whatever. Now you got not only the damage of the room, now you can't produce. Now you may end up having to lay people off because now you have lack of confidence. Maybe you're making parts and pieces for a bigger corporation. They're going to take them somewhere else because you can't meet the demand.
Chris: Can you really put a dollar amount on that? Everybody's always kind of looking right at the end of the nose is looking at hardware, hardware, hardware, well, there's more to it. There's the data loss. Other intangible things that you may not really be able to put a dollar amount on. Those are the things that you also need to think about, so kind of back to what I was originally going with that is, so you have a ignition source in your server rack, it's slowly smoldering, slowly burning, you're going to have a low kilowatt heat release rate. So it's going to take a lot of kilowatts before that sprinkler actually activates. Well, you might have damage in that server because of the ignition source burning all that equipment up, but you also have combustion now in your server room or telecommunications or whatever, right?
Chris: All those nasty byproduct from that. The acidic byproducts in the combustion process. A lot of the newer servers, they don't like that stuff at all. So you may have a row, 20 feet away and again, I'm just throwing that number out there so I don't want to buy them like hang on that 20 feet away concept. But so let's say 20 feet away you've got an ignition source in the server rack, it's building up, the smokes building up, the combustion is building up, your sprinkler still hasn't activated. So maybe it's 195 degrees, the ignition source is now about 195 degrees. It may be by the time it actually gets to the sprinkler, it might be 600 degrees. You got a lot of combustion. That's a lot of acidic byproduct in the atmosphere.
Chris: So now not only do you have now smoke damage, downtime from the hardware being damaged, but also you may have some other electronic components that are actually be indirectly damaged by that ignition source. The sprinkler finally activates, it suppresses, it extinguishes the fire exactly the way it's designed. Now you still have water damage. Now you've got all that cleanup. With a clean agent, we want the systems to activate what we in generally in your server, it rooms, those types of areas. We want them to be activating inwhat we call the incipient stage. So you kind of use it as, you think about, you smell kind of the burnt toast, but you can't see it. That kind of concept. So you got low slow smoldering fires burning, low kilowatts. The combustion gets into your detection and activates. Usually your second alarm will activate. Now where your time delay is, boom, it discharges. It's three dimensional. It's going to penetrate.
Chris: Maybe you're down 24 hours because you had wait on a server card, or a server back up. Nothing else has been damaged. You're able to keep on keeping on, right. So there's some other factors that I know we will eventually talk on in the podcast, but yeah, that's generally the biggest thing you really need to think about... Can you have a sprinkler, like a preaction sprinkler system protecting your server room? Yeah. There's nothing wrong with doing that, but you also need to really understand the functionality and how they actually operate. Because depending on what you're actually trying to protect, what are you really trying to protect? Maybe that's really not the right application.
Aaron: You mentioned that the fire suppression systems are activated by smoke detectors? Are the smoke detectors, do install more of them in the room or do you install them at different levels? I mean, how sensitive are the alarms or the smoke detectors?
Chris: The spot type smoke detectors are actually so much better than what they were 20 years ago. There's another type of smoke detection called air sampling. So your spot type. so I'll touch on the spot type real quick. So you're spot type smoke detectors. They're sitting there, they're passive type devices cause you've got to wait until the combustion actually gets into the chamber of those smoke detectors before they'll activate. With your air sampling, it's got an aspirator and you can do all sorts of different things as far as adjusting the speed of the aspirator depending on your airflow and all of these different things. So with the air sampling, it's constantly sucking in the air. So it's a little bit more aggressive still testing for the combustion process, but it's kind of like looking for it if you will. It's sampling constantly the air. Where the spacing of smoke detection comes into play is we still always have to reference back to NFPA 72 because even though you can have a CO2 system, you can have a halon system and FM 200 system, it doesn't matter when it comes to detection and control, we still have to reference back to NFPA 72 for proper placement, height...
Chris: Is it in private or public mode, all the safe path, all those different things can come into play. So generally they say the spacing for a general area for a smoke detector is 30 by 30, 900 square feet. But it really depends on your environment and air changes. So depending on what your air changes are, you may actually need to reduce the spacing. The general consensus is with fire extinguishment or clean agent, especially like in a server or a data room, is generally you want to immediately start at 250 square foot spacing and then reduce it down, because the reason being is it's the air changes, it's the airflow. And that's actually becoming a little bit more difficult to make a determination because we've ran into instances where everything was okay today when we come back in six months to do the inspection, the room itself really hasn't changed, but at some point in time the customer has changed the type of servers they have. They've gotten smaller, they run hotter. Well, the running hotter, we're getting heat built up, we need to add air flow.
Chris: You may think it's not really causing that big of an issue. The reality of it is it actually could really cause a huge, huge issue because it may delay your suppression system activating.
Aaron: Cause your dissipating the smoke.
Chris: Absolutely! So you need to cut. If you need to do that, by all means you need need to do what you need to do. So ensure that you're not burning things up, because of temperature or whatever the nature of the way the servers run. But you do need to think about your fire suppression because if the spacing is not correct, either A, the smoke detection may not get enough combustion in the chamber of that smoke detector and activate. Or if it does, it may be delayed and now you're going to look at it and say, well system really didn't do what it was designed to do. You guys were just out here. Well, come to find out, you really kind of did it to yourself, and I don't want to sound crude, but you kind of did it to yourself because you just, you needed to make these changes and you changed your air changes, more higher hair flow but you didn't compensate for the spacing of your smoke detection.
Aaron: Last question since it's getting at the end of this podcast, is clean agent suppression systems, is the clean agent dangerous to humans. You see those, you see in the movies again the person stuck in the server room when it gets locked down in the suppression system and it kills them. And is that real?
Chris: Yes and no. So we have, so we have a four every type of agent, there are things that we have to look at on the design side. The primary thing, number one, we need to know our cubic volume of the space or enclosure that we're wanting to protect for clean agent. Once we make that determination, depending on which agent is the choice to be used. There is a design concentration that we have to start with. They have proven with that design concentration and exposure generally per the NFPA, it says like five minutes, you're not going to feel any effects. Does that mean you're not going to feel the effects? No. Everybody's physiological makeup is all different. I'm kind of gotten off the beaten path a little bit. So I'll circle back around when I finish up with it...
Chris: So a few years ago we had a customer, I had done training and there was one individual that didn't want to attend the training. They ended up burning popcorn which caused a smoke detector to activate and they had the opportunity to either push a yellow button or pull the pull station. And so when they'd done that, they immediately discharged the system. Even though all of their coworkers were trying to get him to stop and not do that because they had been through the training. Right. So the system was designed exactly per manufacturer specs and all those types of things. There was like six people in the room when it dumped. Of course they're trying to run out. They get out of the room. There was one person that was filling a little bit effects. They were feeling a little lightheaded, kind of dizzy, just generally not feeling very good.
Chris: And within about 10 minutes they were feeling better. Well come to find out, they didn't even know it. They had some kind of cardiac, irregular things going on that they weren't aware of but being exposed, nobody else had any ill effects, because of their heart condition, it kind of brought it to light and they went and got checked out and it wasn't anything major, but again, it was enough. The adrenaline, ephedrines and all that stuff. Probably butchered that word I do every time. But all that stuff is elevated as your adrenaline's going, so that's going to cause, so what it basically is, for the chemical agents, we're looking at cardiac sensitization. With the inerts, because it's dropping the oxygen content. It's basically, the amount of oxygen you're being exposed to. So to answer your question, back to the original question is yes, they are safe for occupied spaces.
Chris: There are certain design concentrations depending on what the agent is, but there's also other, with the design concentrations, we have to also look at the LoaEL, which is the lowest observable adverse effect level and the NoaEL, no observable adverse effect level. So you can make maybe design at 7%, that NoaEL maybe 10 or 9 or whatever, and then your NoaEL maybe 10. What that means is you can design upto that, but you get above that, they start seeing some kind of effect. So now there are even limited, even more limited exposure limit that has been based off testing. And all that is specified in the respective NFPA standards.
Aaron: So the concentration level that it's set up to work is usually lower than...
Aaron: Oh yeah, yeah, yeah. So your design concentration, for like halon, it was usually five to 7% for your class A or class C type fires.
Chris: For FM-200 it may be anywhere from six and a half to seven ,more towards the seven. For Novec, it's like 4.2, 4.5. For your inert gases, it's generally between like 34 to 38 depending on just what the agent is. So again, that's your normal design. Does that mean you can design higher than that? You can, but there's... Again, always kind of look at it this way, so the speed limit is 55. Generally if you're running 62, 63 and a cop comes up behind you, they're generally going to let you go. Right? That's Kinda your, NoaEL if you will. Okay. So you get above 63, now you're at 65 in a 55, that's your NoaEL, you might get pulled over. So, but again depending on the agent, depending on the design concentration, and your class, it can be used, cause all these agents can be used for Class A, B and C type fires.
Chris: But your class B are flammable liquids, so design concentration is immediately going to be higher. So, like I said, depending on the agent, depending on what you're trying to do, those types of things, there is a baseline and then there was basically a high and a low if you will, but it's all based on the agent and exposure limit and things that have been tested and those types of things by some really, really smart scientist and those types of things.
Aaron: So not only does it take in the room size, but does it it also take in what's inside the room itself? The volume or anything?
Chris: No, I mean because it's three dimensional, so it's, if you have server cabinets, it's going to penetrate right into the servers cabinets. Now, I mean, if you had a big enough like solid column or something that was big enough that it really could affect your safety levels or whatever, with your design concentration. In the design side, there's a way to take that volume out, if you will, out of the enclosure, but generally you're not going to have columns or whatever. And like I said, because they all discharge as a gas, they are all going to be three dimensional and they're all going to penetrate into those server cabinets and under tables and inside, you know, under the floor and all those other areas that it hasn't really, it doesn't really matter.
Aaron: One more question, cause this, I think most people are really interested in this. If the nozzle where the clean agents coming out of, if you're standing right in front of it in a server room is the concentration level higher there, or will it spread and dissipate throughout the room quickly?
Chris: So your discharge nozzles depending on the type of nozzle it is, whether it's a 180, which you are generally going to see closer to the wall. Or 360, which is generally going to be closer to the center of the room. They all have a certain coverage area depending on manufacturer and agent, right. So what it's going to do is it's going to discharge, it's going to envelope the space. The gas itself is going to discharge and entirely fill that enclosure. That's why we need to know the cubic volume of that entire enclosure, which could mean some additional duct work, could mean areas leading out of the room. If it's all common sub floor, some other things like that. That is to ensure that we're reaching the proper design concentration. But you do absolutely not want to be like right up against the nozzle as it discharges because your chemical agents, you could end up getting frostbit.
Chris: I mean because there's a coldness to it and then it warms up. So again, you don't want to be right next to it. I haven't, my years of doing this, I've been at Koorsen for 22 years, so I've had some mishaps overtime, you learn from them, those type of things. I have been in halon 1301 discharges, I've been in a FM-200 discharge and I have been in a inergen discharge and I can tell you today I didn't have any effects. And yes, well two out of the three was my mistake of not being as cautious as I should have been. The third one was at the wrong place at the right time. But like I said, I've been in the discharge on all three different types of agents and I did not feel any effects. And yes, my adrenaline and my heart was pumping because you just screwed up a couple of times. Right. But, like I said, it's going to envelope the entire enclosure and as long as you're able to maintain the agent inside the enclosure, whatever the ignition sources should not be able to reignite.
Aaron: All right, well thank you for taking this time. If you want to learn more about a clean agent suppresion systems, you can go online at Koorsen.com or contact your local branch. Thank you for your time and this is the end of this podcast. Thanks. Thanks for listening. If you liked today's episode, we encourage you to subscribe to the podcast and rate us on iTunes. You can also find our podcast on Spotify, Pocketcasts, Google Podcast and other popular podcast players. Search for koorsen fire and security chat to find it. Thanks once again for listening and I will see you next week for our next episode of the Koorsen Fire & Security chat podcast. Have a great day everybody. The information in this podcast is for informational purposes only. It is believed to be reliable, but Koorsen Fire & Security assumes no responsibility or liability for any errors or omissions in the content of this podcast. It does not constitute professional advice. The listener of this podcast is responsible for verifying the information is accuracy from all available sources, including the product manufacturer. The authority having jurisdiction should be contacted for code interpretations.