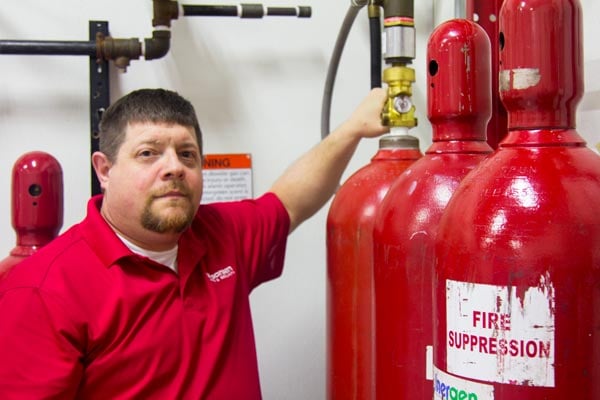 Here at Koorsen, we strive to be true community members in every single one of our locations. We are a family-oriented business and treat our employees, our customers, and our communities as family.
To that end, we are eager to share more about who we are – to give our customers and community a better look inside to see who and what we are all about, which is why we started our "A Day in the Life of a Koorsen Employee" series.
In this month's installment, we are pleased to introduce you to Mr. Chris White!
Meet Mr. Chris White: Clean Agent Trainer
Chris is a true Koorsen veteran. He came to us 22 years ago after serving in the Marine Corps as a Field Wire Man on telephones. It was the knowledge he gained from that experience, Chris recalls, that allowed him to get an entry level position at Koorsen as a technician's assistant out in the field.
Recalling his early years and how he has evolved as a Koorsen employee, Chris says it was quite the whirlwind. As an assistant, he had to learn and comprehend so many fire alarm systems. Within just 6 months, he was promoted to a lead technician and eventually became responsible for all clean agent and CO2 inspections at the Indianapolis branch.
It didn't take long before Koorsen asked him to support other branches with their clean agent and CO2 work. After 5 years in the field performing service and maintenance, Koorsen began looking to Chris to start teaching and training other technicians.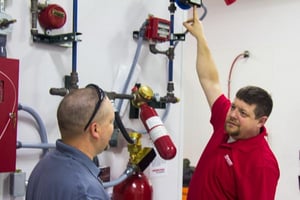 Now, Chris's primary role is as a corporate trainer and educator, both at Koorsen's one-of-a-kind training center and in the field. Chris helps everyone, from new hires to current technicians to customers, understand more about how clean agent and CO2 fire suppression systems work. From group presentations, to one-to-one training, to a phone call or email, Chris is more than happy to sharing his wealth of knowledge on all things fire suppression.
Having been a part of Koorsen now for 22 years, Chris has experienced the transformation that the digital information age has had on the industry and his job. Chris remarked how when he started, "All I had was a pager. I would get a page from a service manager and I'd have to find a pay phone and call."
Now, his cell phone and computer are his most vital tools as he answers questions via email, text, and phone call, and performs research to create and update his presentations.
When not at work, Chris is a devoted family man who loves the simple things in life, like cooking and enjoying the company of his family. He loves spending time with his teenage daughter, even if it means shopping.
The only thing that may interfere with that is his love of hockey: "If the Chicago Blackhawks or Indy Fuel are on," he admits, "leave me alone until the game is over."
A Day in the Life of a Clean Agent Trainer
For Chris, his work day as a clean agent trainer starts in his office around 6:30 a.m., answering emails and messages before the day becomes too hectic.
When in the office, he provides support to all of Koorsen's twenty plus branches and their customers, answering questions regarding clean agent and CO2 fire suppression systems, helping with price estimates, scheduling training, and more.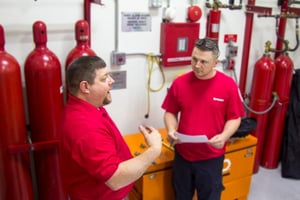 When not answering calls and emails, Chris tries to keep up with relevant news and research to ensure he is always providing the most up-to-date information in his training and support. He's also constantly looking for ways to improve his presentation content and skills.
As a clean agent trainer, a good part of Chris's day is usually spent in the classroom. Chris bears the responsibility of teaching both clean agent and CO2 classes to new technicians at the training center. Chris's training classes include everything from presentations to hands-on experience to ensure that Koorsen's technicians are the most highly trained and effective techs in the industry.
Chris is not restricted to the classroom and office, however. He still spends plenty of time out in the field for a wide variety of reasons. He may be at another branch, providing further training to a team of techs, or riding-along with a newer tech as they transition from the classroom to the field.
Chris is also still involved with helping on jobs requiring his high-level expertise in clean agent and CO2 systems, as well as for answering questions for customers. Chris even ends up out in the field simply because a branch needs the additional work-force.
On an average day, Chris typically makes his way out of work by 5:00 or 5:30 after putting in eleven hours, assuming he's not been out in the field at another branch, when it may take him longer.
Ultimately, says Chris, it's about doing "anything I can do to help support all the Koorsen branches and customers." And while he admits that days can be stressful, he insists that, "Very seldom do I have a bad day – it may get stressful, but never bad."
Chris's Best Advice for Customers
With his valuable 22 years of experience in the industry, we asked Chris some questions about what he felt customers needed to know.
Q: What question(s) do clients ask you most often?
A: "So the fire suppressing agent will kill me, right? I need to get out of here if it goes off?"
That is the type of question Chris is used to hearing. And of course, his answer is: "It depends."
"If it is a CO2 system, then due to the design concentration requirements, there is a very real possibility of asphyxiation and death."
Chris goes on to emphasize that, "We as an industry must do a better job in ensuring the right people have been trained on their system, especially when it comes to co2 systems. I have seen too many times where people get so comfortable working around these systems, they tend to forget what could happen if they are exposed to CO2. Even with the clean agent systems – people need to have an understanding of how the system functions and this includes trying to maintain proper enclosure integrity."
Q: What question should clients ask you, but don't?
A: "How does my system work?"
This is the question Chris wished clients would ask. Lack of understanding or taking for granted a fire suppression system can be extremely dangerous.

Chris insists, "I understand that everyone seems to be busy…but at the same time, if we are there performing service on your fire suppression system and you have questions, please ask! Or call or email your local branch. Or if need be, reach out to me – we will do everything we can to provide the answers to your questions."
Q: What should clients know before buying or making a decision?
A: "When it comes to fire suppression clean agent systems, they should know what they are trying to protect."
Chris continues by saying that if the client is protecting high value assets, like a server room and data, they need to ask themselves: "Is my enclosure really adequate to properly maintain the clean agent?"
This is because "the biggest problem we are seeing is a customer who believes they need a clean agent to protect their servers, but they have all this equipment in a room that originally was built as a storage or office. The clean agent system may not perform as intended because the room was never designed to properly maintain the minimum design concentration of the clean agent gases."
Bottom line, customers "need to be prepared to invest not only in the clean agent system but in the room itself," otherwise the system may be for naught.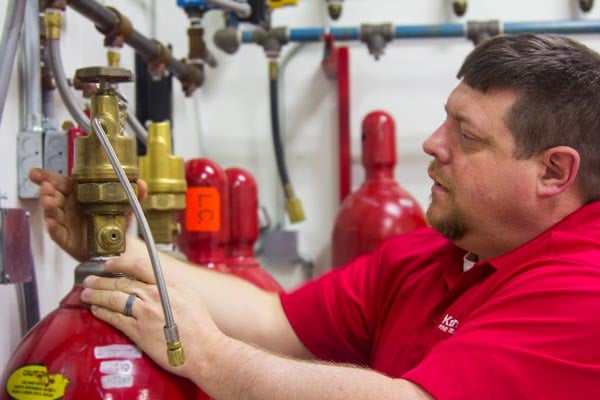 Chris's Best Advice for Professionals
We also asked Chris to answer some questions and share some wisdom for fellow peers in his line of work.
Q: What do people who are trying to enter your profession need to know?
A: "It is so very rewarding. The job you do could have a direct or indirect effect on someone's life. This profession will provide you with an opportunity to see things that normal 9-5 jobs won't let you see."
Q: What's challenging about your job?
A: "Making sure that I am always staying educated. Not all systems are one in the same. There are so many different variations due to manufacturer, agent, and respective NFPA standards."
Q: What's the most rewarding parts of your job?
A: "For me, it's when that light comes on for a trainee. Working with a technician – it's that moment you can see them kind of struggling, then all of a sudden – BAM – they get it! Just to see the pride in themselves that they are getting it, it's pretty darn cool."
Q: What is your best advice for someone else in your position?
A: "Patience – everyone learns differently. And here's a dirty little secret – you will never have all the answers and that's okay. Always be willing to learn. And to some, everything you say they take as gospel, so you had better make sure the information you are providing is accurate."
Chris's Thoughts on Working for Koorsen
We, of course, asked Chris about his thoughts on working for Koorsen – what he enjoyed most about his job, the advantages of working for Koorsen over the competition, etc. —here's what he had to share with us:
When asked what keeps him motivated to go to work each day, Chris responded: "Just knowing that I get to work for a great company. Very seldom do I have a bad day…And I get to continue to grow in this profession."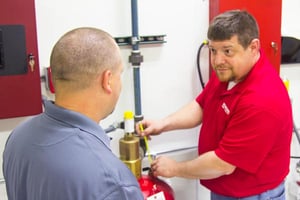 Chris says that the advantage of working with him and with Koorsen is that "We have the most advanced training facility in the industry and despite our size, we as a company are still a family. All of our branches are important parts of their communities and are always giving back."
Looking toward the next five years, Chris hopes to see additional staff added to the training center, to help implement regional training, and to become lead trainer over other trainers.
Contact Koorsen for All of Your Fire Suppression System Needs
Does your workplace have the appropriate fire suppression system in place to protect your high value assets and employees? Who is trained on how the system functions so that if need arises, you can be sure everyone is safe and the system is free to work properly?
Not sure? Give Koorsen a call and members of our team, like Chris, can help answer your questions, schedule a visit, and provide the training you need.