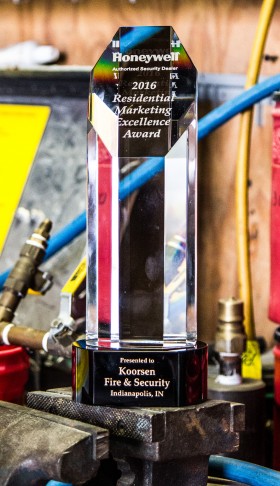 Honeywell held its annual conference, Honeywell CONNECT 2016, in the beginning of November in Hollywood, Florida. The conference brought together over 900 industry professionals and leaders, including many from Koorsen Fire & Security.
Attendees had the opportunity to see and demo the latest in products and services from Honeywell. They also were able to attend over 55 educational sessions on industry trends, business strategies, and selling techniques. The conference concluded with an Awards Gala where Honeywell recognized the achievements & successes of those attending.
Koorsen Fire & Security received two awards at the Honeywell CONNECT 2016 conference. Koorsen Fire & Security was awarded with the Residential Marketing Award and the Community Service Award. The Residential Marketing Award was presented to the company that has been forward-thinking and has used innovative techniques with their marketing efforts in 2016. Koorsen is honored to be recognized for this prestigious award for our Koorsen Home Security brand.
In addition to the Residential Marketing Award, the Koorsen team was recognized for their philanthropic efforts in the communities that they live and work in. Having the opportunity to give back to their communities is what drives those at Koorsen to succeed in their business efforts every day.
# # #
Koorsen Fire & Security was founded in 1946 and is a third-generation, family owned business. With more than 27 locations in five states and over 900 associates, Koorsen has become one of the largest and most respected fire and security companies in the United States. Koorsen Fire & Security is one of the only companies in the industry to provide clients of all sizes with total protection from one source.