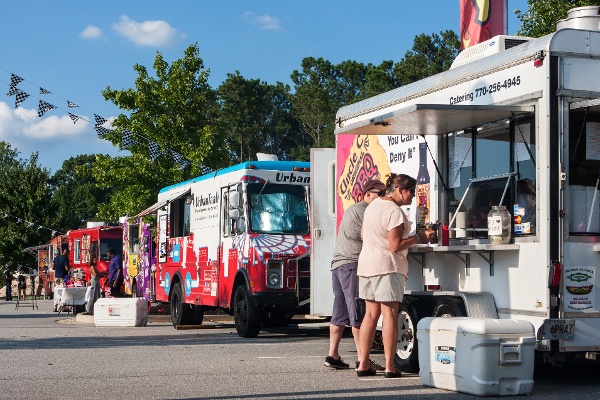 As of 2016 – the most current U.S. Census data available – there were 5,325 food trucks on American streets, with more than 90 percent of them independently owned and operated. This is significant because food trucks are an industry brimming with fire hazards.
Ultimately, it is the individual owners who are ultimately responsible for their safety. However, until recently, the lack of National Fire Protection Association (NFPA) codes, standards, and guidelines made it difficult for food truck owners to know how to best address the unique fire safety challenges inherent in their operations.
The 2018 edition of NFPA 1 Fire Code now includes a new section dedicated to the fire safety concerns unique to mobile and temporary cooking operations. While not yet adopted in most jurisdictions, these regulations will help to make these types of cooking operations much safer for the people that run them and the customers drawn to them for the casual cuisine they offer.
Many of the requirements in Section 50.7 are based on the 2017 editions of the NFPA 58 Liquefied Petroleum Gas Code and the NFPA 96 Standard for Ventilation Control and Fire Protection of Commercial Cooking Operations. These codes, combined and now unified by Section 50.7 of NFPA 1, offer the most comprehensive set of fire safety regulations to date for food trucks and other temporary cooking operations at churches, festivals, and other events.
This article focuses on some of the most important takeaways from Section 50.7 of NFPA 1 with a focus on those guidelines that those running temporary cooking operations and food trucks, in particular, can most easily implement now to make their operations safer.
Guidelines You Can Implement Now
Make sure you have the right safety equipment on board
Having the right fire extinguisher for the type of operation you're running can make help ensure that a small fire doesn't become deadly. If your operation uses a generator or other fuel-fired appliance, make sure it is equipped with at least one 2A:10 BC[1] portable fire extinguisher. If you use wood or charcoal as opposed to compressed gas, your operation should be equipped with at least one 2A portable fire extinguisher. You can learn more about the different types of fire extinguishers available here.
Food trucks that use wood or charcoal as their fuel source should also be equipped with a carbon monoxide detector to protect your workers from this odorless, toxic gas, which can pool inside vehicles without otherwise being detected.
You also need to make sure your employees have a way to communicate with emergency personnel at all times. You shouldn't rely on them to have their phones available. Instead, keep a dedicated and fully charged cell phone in an easily accessible location in the food truck at all times. The address of the current operational location should also be posted and accessible to all employees.
Be mindful where and how you park
Make sure you always park at least 10 feet away from any buildings or structures, combustible materials, vehicles, and other cooking operations. You should also park in such a way that the exhaust from portable generators is at least five feet away from any opening, air intakes, means of egress, or from any building, structure or vehicle.
Your food truck should also never be parked in a way that blocks a fire lane, a fire department access road, access to fire hydrants, and/or any other fire protection devices or equipment. And, you should always use wheel chocks to prevent the vehicle from moving.
Never cook under the same tent that covers your customers' dining area
Mobile or temporary cooking operations should never be conducted inside tents that are also occupied by the public. In the event of a fire, a burning tent can quickly collapse, trapping people inside.
Training is essential
While most food trucks are owner-operated, if you have employees, you should provide them the training they need to effectively respond to an emergency before ever allowing them to operate your food truck. This training, which should also include refresher training each year, should cover:
Proper use of fire extinguishers and extinguishing systems built into your food truck
How to properly shut off fuel sources and to refuel when needed
Knowing the properties of the fuels used in cooking operations and how to perform leak detection
The procedure for notifying the local fire department in the event of an emergency
Extra Tips for Working with LP-Gas Cylinders
Due to its explosive potential, propane is one of the most significant safety hazards on board a food truck. According to the NFPA, about 68 percent of food truck fires are related to propane, due to either a leak in the tank or structural failure. Almost all of the incidents resulting in injuries and deaths in the past four years have been the result of propane explosions, which has provided much of the impetus for the NFPA to develop its new regulations.
Get your cylinders certified by an expert
You should always inspect your compressed gas cylinders for leaks before each use and ensure that if your cylinder has a shut-off valve, it is readily accessible and easily identifiable with a sign that is permanently attached.
Also, Section 50.7 adds the requirement that LP-Gas systems, including their cylinders, be certified for compliance with NFPA 58 by a company[3] with expertise in their installation, inspection, and maintenance. You should also have your system recertified anytime you add or replace an appliance or if you make a modification to the piping connection (note that this does not include swapping out the cylinders).
Make sure cylinders are appropriately sized and properly mounted
Non-passenger vehicles – The capacity of individual cylinders used on trailered cooking operations should not exceed 1,000 gallons and if installed on the exterior of the vehicle, should have a maximum allowable working pressure of 250 pounds per square inch (PSI) or higher.
Passenger-carrying vehicles – LP-Gas cylinders installed in or on food trucks cannot exceed 200 gallons aggregate water capacity and have a maximum allowable working pressure of 312 psi or higher if installed inside the truck and 250 psi or higher if installed outside the truck.
Make sure your cylinders are secured in an upright position to prevent tipping. They should also be mounted in a way that will prevent them from loosening and slipping or rotating during transit with fastenings that are designed to withstand static loading in any direction. The same applies to any cabinet or housing in which a cylinder is stored.
Additional Resources are Now Available
In addition to the tips we've provided here, there are several other great resources now available for food truck operators to improve the safety of their operations. For example, the National Food Truck Association (NFTA) offers a video to help current and prospective food truck vendors know what to look for when evaluating the safety of their mobile cooking operation. The U.S. Department of Transportation has published a flyer summarizing the requirements for compressed gas cylinder testing, and the NFPA's new Factsheet on Food Truck Safety provides several fire safety checklists for operators, including:
General Safety
Fuel & Power Sources
Operational Safety
Propane System Integrity
Solid Fuel Safety
Taking some time to evaluate your food truck operation now can give you a headstart on compliance when and if your community eventually adopts the new Section 50.7 requirements in the 2018 edition of the NFPA 1 Fire Code. More importantly, doing so will give you the peace of mind in knowing that your operation is safe.
Koorsen Can Help You Prepare for New Regulations
Trusted by one of the world's largest manufacturers of custom food trucks, Koorsen can help you evaluate your cooking operation and ensure it meets all current applicable state and local fire codes as well as the new requirements in Section 50.7 to keep your employees and customers safe. Contact Koorsen today to talk to one of our experts about improving the fire safety of your mobile cooking operation.