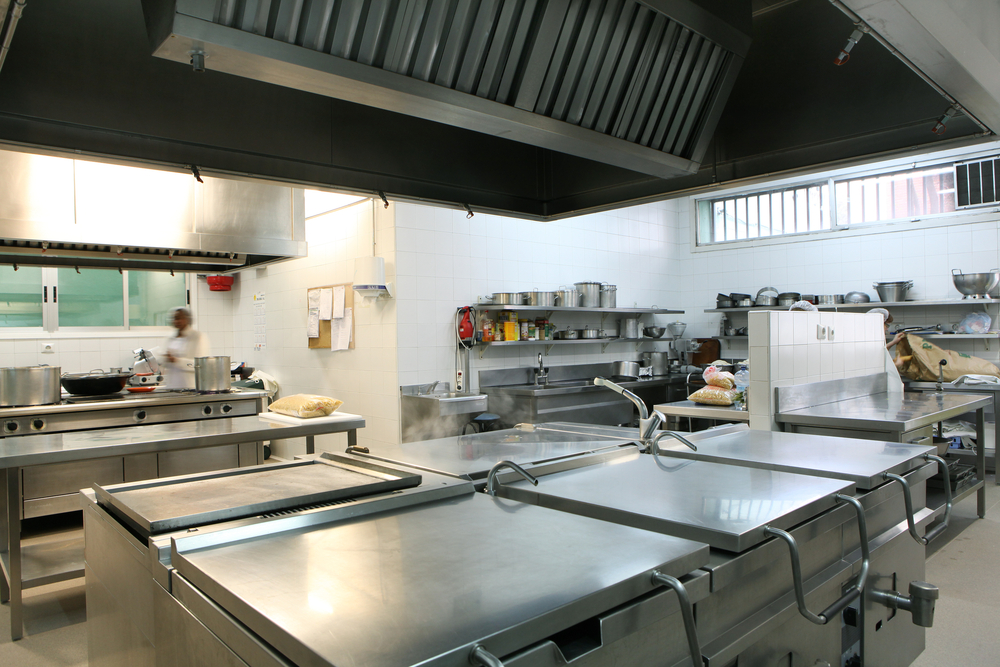 Yes and No.
Yes, you can move equipment temporarily, but it is imperative that you put it back in the exact spot from where you moved it. However, you should avoid moving the equipment as much as possible. Every time you move and / or replace a piece of equipment, you are taking the risk of compromising the kitchen fire suppression system.
Rearranging or Cleaning Kitchen Equipment
Large commercial kitchens are known to have appliances on wheels that are mobile to make cleaning and operational activities easier. It is important to place these appliances back in the same spot they were previously placed. Do not rearrange the equipment, as you would be exposing your building to the risk of serious fire damage. The fire suppression system is specifically designed to extinguish a fire on each of the different cooking surfaces. If equipment is not aligned properly under the hood suppression system nozzles, then the system may not protect these surfaces. Nozzles pointed at floors, walls or non-cooking surfaces are not providing the necessary protection.
To avoid this situation, you could install wheel lock safety set brackets for all cooking equipment under the hood suppression system. The brackets will allow your staff to know when the equipment is properly aligned because the wheels will lock down once they are back in the correct place.
NOTE: Ansul and Amerex do offer overlapping protection which allows kitchen equipment to be moved around or replaced without compromising the protection of the fire suppression system. It is still recommended to contact your local Authority Having Jurisdiction (AHJ) or a Koorsen Fire & Security representative to ensure there are no compromises to your fire protection.
Kitchen Expansion
If a restaurant is growing, the kitchen will most likely grow with it. With expansion comes new equipment. If new equipment is installed in place of the old equipment or alongside the old equipment, your current fire suppression system needs to be reevaluated before any equipment is used. Until the current design is inspected, you could have unprotected fire risks. The current design of the fire suppression system may need to change based on the type and location of new equipment that is installed.
Regulations on Moving or Changing Cooking Equipment
The regulations regarding moving and expanding equipment can be found in NFPA 96 Chapter 10.2.7.4, where it states "Changes or modifications to the hazard after installation of the fire-extinguishing systems shall result in reevaluation of the system design by a properly trained, qualified, and certified person(s)."
Rearranging and upgrading kitchen equipment is common with commercial kitchens. Be sure that you are confirming with a fire safety expert that your kitchen fire suppression system is still protecting all necessary areas. Taking action will help to keep your business running safely.
Stay Safe with Regular Inspections
Koorsen Fire & Security's kitchen fire suppression experts are highly trained and ready to help protect your kitchen, no matter what type of kitchen fire suppression system is installed. They can help to keep you up to date with inspections and routine maintenance to ensure you are compliant with the rules and regulations put forth by your local AHJ. Contact Koorsen today to have the peace of mind in knowing that your kitchen and staff are safe and protected from fire risks at all times.