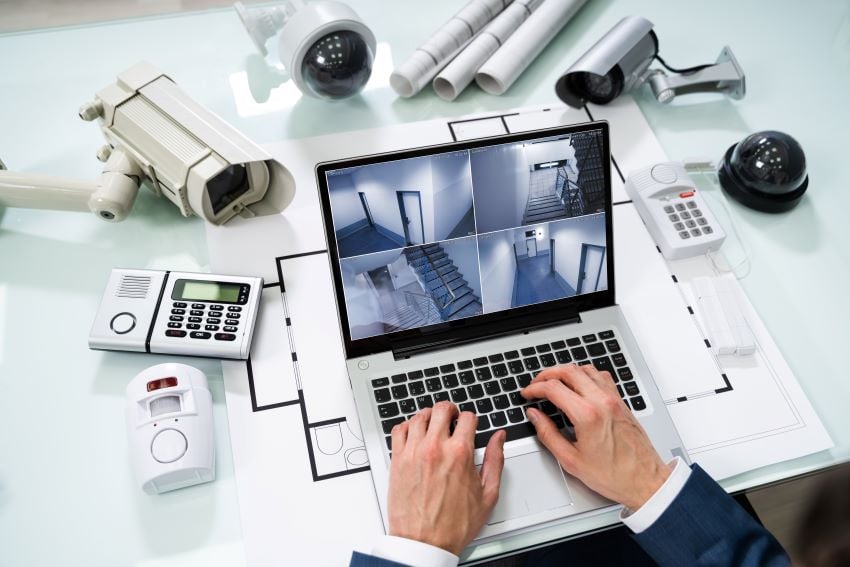 Looking for security cameras for your business? While we recommend seeking a commercial security expert's advice on the best security surveillance system for your business, it can also be helpful to know exactly what camera options are out there so you feel informed and confident in your decision.
Click the button below to download our handy visual guide to help you decide which security camera is best for your business.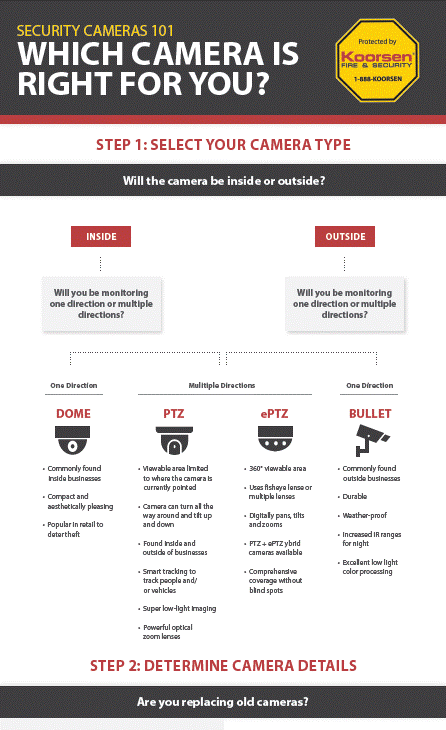 Whether you're needing a single camera to watch over a trouble spot or a system of connected cameras to provide 24/7/365 surveillance, it's important to know which cameras provide which features.
IP OR COAXIAL
For the majority of businesses, digital IP cameras are what you'll find installed most often. In older security surveillance systems, coaxial security cameras are more common. Coaxial cameras are connected to monitors and video recorders via a coaxial cable. With a coaxial camera, the video is processed in the monitor or video recorder. As a result, the video quality can begin to degrade over longer cable runs.
With a digital IP camera, the video is processed in the camera. The video is then transmitted digitally over wi-fi or Ethernet back to the monitors and digital video recorders. This makes installing and moving the cameras quick and easy, which can save you time and money.
For older security systems, there is the option of upgrading the legacy analog cameras to IP cameras while still utilizing the coaxial cable runs. This requires an IP over coax transmitter which can be more cost-effective over installing Ethernet cable. This also allows businesses to transition more slowly from coaxial to IP with the ability to replace older analog cameras as needed rather than all at once.
CAMERA RESOLUTIONS
Today's IP camera resolutions typically start at 1.3 megapixel(mp) and go up to 4K or greater. A 1.3mp camera has a maximum image resolution of 1280x960 which is how many horizontal and vertical pixels the image has. As you go from 1.3mp to 3mp to 6mp and finally to 4k, the horizontal and vertical pixels increase.
When looking at video images at different resolutions on a computer monitor, you get a larger picture as you move up in camera resolutions. With higher camera resolutions, you can zoom into the picture without losing as much clarity when compared to the lower resolution cameras.
Higher resolutions and frame rates will require more storage space on your DVR (digital video recorder) or NVR (network video recorder) resulting in higher upfront infrastructure costs. In most businesses, you'll usually find 1.3mp or 3mp cameras, which are satisfactory for general security surveillance. With security cameras, the frame rate, resolution, on-camera storage capacities and low light IR capabilities are what drive the costs up or down.
DOME CAMERAS
Dome cameras are the most common type of security camera found inside businesses for their overall aesthetics and size. Standard dome cameras either have fixed focal or vari-focal lens. Vari-focal lens cameras have more flexibility but cost more than fixed focal. Camera resolutions range from 1.3mp to an impressive 30mp for crisp video. Some dome cameras also feature IR capabilities for better low light visibility.
There are many different styles of dome cameras. Some are more compact and recessed making them less obtrusive and more aesthetically pleasing to customers. Retail stores favor the dome camera because it makes it difficult to determine where the camera is pointed which can help deter criminal behavior.
BULLET CAMERAS
Bullet Cameras are most often found outdoors, as they are built to withstand extreme temperatures and elements. Like dome cameras, there are fixed-focal and vari-focal lens options. Many bullet cameras have great night imaging capabilities with increased night vision distances and impressive low light color processing.
Many times you will find bullet cameras mounted out of reach and aimed toward store parking lots and entrances for general surveillance. They are also used effectively for license plate recognition and vehicle identification. Overall, bullet cameras are a popular choice for their versatility, durability, low-light image quality, and extended range capabilities.
PTZ CAMERAS
PTZ stands for Pan-Tilt-Zoom. PTZ cameras usually look exactly like a dome camera, but have the ability to turn all the way around and tilt up and down. This can be done manually by security personnel, or some have smart tracking capabilities via onboard analytics. This allows the camera to identify people or vehicles and track them until they are out of the camera's range.
You'll find PTZ cameras outside and inside businesses. Usually you can find them outside a business at each corner, so they can track people and vehicles moving around the entire building perimeter. Inside buildings, you'll usually find PTZ cameras at hallway intersections so they can track people walking down multiple hallways. They are also popular in retail stores for reducing theft. Today's PTZs have incredible capabilities, including super low-light imaging, advanced motion tracking, powerful zoom lenses, and extended IR ranges.
ePTZ CAMERAS
The one disadvantage of PTZ cameras is that while they can cover a 360-degree area, the viewable area is limited to where the single camera lens is pointing at the time. To cover, view and record a 360-degree area, one needs an electronic-pan-tilt-zoom (ePTZ) camera. An ePTZ camera is usually either a fisheye camera or a multi-imager camera. A fisheye camera uses one lense that is able to capture a 360-degree panoramic view. A multi-imager camera uses multiple lenses aimed in a 360-degree array and stitched together with software to capture a 360-degree view.
Where the "e" comes into play with the ePTZ camera is the ability to electronically or digitally pan, tilt and zoom the 360-degree panoramic view which gives the user multiple viewing modes. As you zoom in on an ePTZ, your image resolution will decrease as the zoom is digital and not optical like a PTZ. To compensate for this, an ePTZ usually has higher resolution lenses.
SO WHICH CAMERA IS RIGHT FOR YOUR BUSINESS?
When it comes to security cameras, there are many different styles and options. While this post covered the more popular cameras, there are many other specialty cameras that may be a better fit for your business. It's also important to factor in the video recording system. Just like security cameras, there are many options and capabilities to choose from based on your needs and your current security system setup. The best advice is to talk with a commercial security expert who can provide an on-site analysis and develop a surveillance system customized for your business.
HAVE QUESTIONS?
For more information on custom security and surveillance systems, contact our commercial security experts for an onsite analysis.