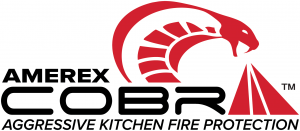 No matter the size of a restaurant's kitchen or the experience of its staff, the importance of a kitchen fire suppression system cannot be overstated. It's the backbone of a commercial kitchen's fire safety efforts, yet not all fire suppression systems are built the same.
An important factor in such a system is its heat detection function, and its reliability hinges on how well it functions within the layout of a kitchen. Some systems feature heat-detection wire mounted above an area; others use specific heat detectors above a piece of equipment.
In order to provide greater safety and responsiveness, Amerex's COBRA combines both of these heat-detection approaches. This new kitchen fire suppression system, available exclusively through Koorsen, is ideally suited to kitchens that undergo frequent appliance reconfiguration, due to either changes in menu or staff. Through its versatile design and comprehensive detection capabilities, COBRA provides a step forward in the sophistication of restaurant fire prevention strategies.
Comprehensive Detection Capabilities
The "best of both worlds" approach COBRA offers includes a linear heat-detection wire, which is connected to a ventilation hood and triggers an alarm when a hazardous temperature is reached. Thermal heat detectors are also part of the detection system and actuate a response from the system when a fire occurs. These two systems in tandem provide a comprehensive approach to fire safety, although either system can be used individually.
A manual fire alarm is also included with COBRA, and the entire system can be implemented in a quick and secure installation featuring noncorrosive components built with longevity in mind. COBRA is designed to monitor both cooking and ventilation equipment, including hoods, ducts, and pollution control units, as well as fryers, boilers, and range tops.
The STRIKE Electronic Control System: High-tech Actuation & Response
Both of COBRA's detection methods are integrated into a single control system, known as STRIKE. The "brain" behind COBRA, STRIKE receives signals from the detectors and responds to the outbreak by initiating a series of different steps. When a fire occurs, STRIKE shuts off the kitchen's gas valve, preventing any exacerbation of the fire, and activates visual and audio fire alarms.
It then sends a signal to a wall-mounted enclosure containing liquid nitrous material, which is released via a nitrogen cartridge through the sprinkler-like network of overhead nozzles to extinguish the fire. The nozzles are positioned five feet above the cooking surfaces, allowing a freedom of movement that doesn't restrict staff when the nozzles are not in use. The liquid material released is noncorrosive, so it won't damage appliance surfaces, and the nozzles feature re-attachable blow-off caps that keep the nozzle openings free of grease buildup that would compromise nozzle efficiency. The entire actuation procedure is showcased in a COBRA video that provides an overview of the system and its advantages.
COBRA's fire suppression strength lies in how its detection apparatus, STRIKE control system, and overhead nozzles work together in a unified fashion. STRIKE can also be integrated as part of a building's overall alarm system and, as a battery-powered device, it operates independently of a building's power system, allowing 24/7 service.
https://vimeo.com/164437313
Fast, Reliable & Versatile Fire Suppression
The demands and responsibilities that restaurant kitchen staff face each working day are extensive. In an effort to build a following of loyal customers, all kitchen activities must be done with fire safety in mind. A restaurant's fire suppression system is an essential asset in fire safety and, ultimately, the overall success of a business, and Amerex's COBRA is the new standard for fire prevention in commercial kitchens. No other system has been designed with its level of flexibility, and COBRA also meets the latest fire safety codes and standards, including UL 300.
As the exclusive vendor for Amerex's COBRA, Koorsen is the only source for this cutting-edge fire suppression system. The innovation behind COBRA reflects Koorsen's commitment to delivering the latest and most sophisticated fire safety technology. Our exclusive launch of COBRA is proof of Koorsen's ongoing leadership in customized fire safety that transcends the status quo.
To learn more about the COBRA kitchen fire suppression system and Koorsen's fire and security services, please contact a Koorsen representative today.