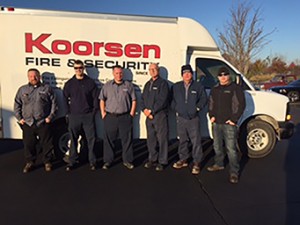 A new location in the Koorsen family, the Merrillville office is in its first year of operation. Branch manager Eric Wallenius, has been working hard to bring his team together to achieve their goal of providing outstanding customer service to every client. They're well on their way, and their teamwork has been growing ever stronger each day.
Solid Leadership
The motto for the Merrillville team is, "Tough times don't last forever...tough people do!" This phrase says it all, as this team is committed to overcoming the inevitable obstacles that opening a new location brings. So far, Wallenius has been acting in the role of a mentor, using his skill and experience to build up his team and to encourage constant communication between them. His efforts are paying off, as he reports that teamwork is an automatic attitude around the office. Associates are focused on the task at hand, and they look for opportunities to work together. In Wallenius' words, "everyone tries to help one another...either unloading a truck, putting stock away, even taking out the trash...it just happens!"
Wallenius is accustomed to filling the role of leader, as he's also a Deputy Sheriff with the La Porte County Sheriff's Office. He is NICET certified, which also makes him a tremendous resource for his technicians to rely upon when they need additional expertise or advice. He loves seeing how the business can grow and enjoys the sense of accomplishment that mentoring staff at his branch provides.
A Good Team
Strong leadership isn't enough to bring success. A good team of people who are committed to working together is also required. Wallenius says that the best part of working for Koorsen is the people, as they're always willing to lend a helping hand. In contrast to other large companies he's worked for in the past, he reports that the entire company feels like a single team, working together to get the job done.
The team in Merrillville has more than 100 years of combined experience, meaning they have the skills to do the job right. They hold various certifications, and have expertise in many items related to the fire service and protection industry. See below for just a few of our top performers:
Jack Lawrence
Jack Lawrence is Special Hazard Technician who has Back Flow certification, and experiencing testing all types of extinguishers. He's also a trained EMT and is now Captain at his local fire station.
Jody Taylor
A 4th generation firefighter, Jody Taylor has been involved in firefighting and fire protection for more than two decades. He has experience with many aspects of this industry, including things like: hydrostatic testing, safety training, gas hazard awareness training and confined space awareness training. In his off hours, he enjoys traveling with his wife, doing landscaping, riding his motorcycle, hiking and going to football or baseball games.
Dominic Zappa
Dominic is a fire extinguisher specialist who is very well-versed in these units. He is the proud parent of twins, and also enjoys classic cars, car shows and old school rock music.
Gary Herlitz
Gary has been in the fire extinguisher business for 35 years, having worked at several different companies during that time. He has experience with portable fire extinguisher service, recharging and sales. He's also well-versed in installation and maintenance of Affex Fire Systems on mobile equipment.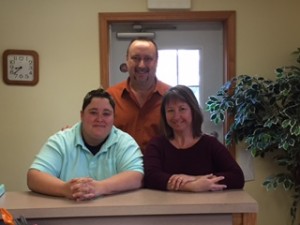 Casie Stuart
With nearly a decade of experience in the fire industry, Casie has moved her way up to Customer Service Manager. Her previous roles were as a dispatcher, lead scheduler and national account coordinator, during her time with another company. She's excited about her new role and working for Koorsen, having just accepted her current job a few months ago. She loves the fire service and protection field, and says that she couldn't imagine doing anything else. In her personal time, she enjoys fishing out at the lake.
Debby Bieda
The Office Manager for the Merrillville branch, Debby has many years of experience in the fire service and protection industry. She started as Office Manager for another company in 1993, and before that worked at various other companies. She keeps the branch running smoothly, handling tasks such as payroll and accounting – to make sure everyone gets paid on time. Married for 25 years, Debby enjoys spending time with her family, reading and flower gardening.
Plans For the Future
With these and other excellent people on the team at the Merrillville branch, Wallenius is confident that they can achieve their growth goals for the future. With advertising making inroads in the local area, the Koorsen brand is becoming more recognized. Currently the Merrillville location offers:
Sales, Installation, Inspection & Service of:
• Fire Extinguisher
• Emergency / Exit Lighting
• Fire Alarm Systems
• Kitchen Fire Suppression Systems
• Fire Suppression
• Vehicle Fire Suppression
• General Fire Product sales
Inspection & Service of:
• Fire Sprinkler Systems
• Fire Alarm & Security Monitoring
To partner with excellent people, who have the dedication and expertise to handle your fire protection needs, contact the Merrillville team today. You'll be amazed at the Koorsen difference, as they'll treat you like one of the family. Call 219-225-2855 or visit the Merrillville page to learn more.