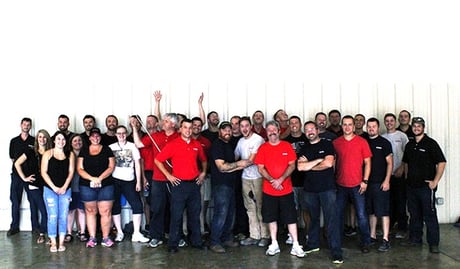 The Koorsen branch in Louisville, KY has been providing excellent service to customers in the region for more than thirty years. Led by district manager Bill Holmes, this location saw more than ten percent growth last year alone. In addition, they earned the prestigious Circle of Excellence award three out of the past four years, which is a remarkable achievement.
Their Philosophy
Holmes saw that a focus on working together as a group was necessary, if this branch was to be the best it could be. To capture this idea in one word, he created the term "teamability" - which means that working together enhances the ability of the team to be successful in everything that they do.
This motto always reminds the Louisville branch that a concerted effort to improve cooperation between team members is critical. This mentality has allowed them to excel as a group and achieve impressive results.
Their Staff
Building a solid team starts with management, and Holmes attributes much of his team's success to the smart, dedicated and experienced management group that provides strong leadership to his team. However, like the old saying goes, "You're only as strong as your weakest link." Holmes prides himself on having one of the best teams in the industry, as he has been consciously fostering new, young talent for the past five or six years. From management to the technicians, every individual continues to go above and beyond the expected to provide excellent service to customers, to the community and to each other.
In terms of technicians, the Louisville branch has one of the youngest crews in the company – yet, the thirty-nine staff members at this location still boast a total of 244 years of combined experience. This unique blend of seasoned and younger associates makes this team versatile, enthusiastic and highly efficient.
Their Training
Koorsen sets itself apart from the competition with the rigorous training provided to every associate. This hands on training is held at the nationally acclaimed Koorsen training center, and it allows associates to inspect, maintain, repair and troubleshoot systems before ever stepping foot into a customer's facility. Many of the Louisville technicians hold NICET certifications, and those who do not yet have it are working towards completing this rigorous training.
Overall, this commitment and experience is clearly seen in the professional demeanor and in-depth knowledge, which the staff displays when interacting with customers.
Their Community Involvement
AHJ Seminars
The Louisville branch has been proud to offer a high-quality AHJ seminar for many years, designed to keep fire marshals, insurance agents, fire chiefs and other authorities holding jurisdiction up-to-date with the latest NFPA codes and requirements. Trusted by the local authorities to provide them with training, this clearly shows the level of knowledge the staff at this branch possess. With regular requests for more frequent events, the Louisville branch plans to offer two seminars this year to keep up with demand.
Volunteer Firefighting
Almost 20 percent of the Louisville staff is currently serving as volunteer firefighters in their local community.
The Ronald McDonald House
The staff supports their local Ronald McDonald house regularly, through a non-perishable food drive, by giving charitable items and holding golf outings to raise money.
The Kasey Program
A unique fire and life safety program designed by Koorsen's Public Education Coordinator Jeff Owens, the Kasey Program uses black Labrador retrievers to teach children about fire safety. With the natural connection that children share with canines, this creates a fun and memorable experience, which trains kids how to stay safe in emergency situations like a fire. This year, more than 400,000 children were able to participate nationwide, with a full three weeks' worth of shows put on locally in the Louisville area.
Their Future Goals
The Louisville branch will be working hard to continue the expansion which they've enjoyed over the last few years. Their goal is to be the go-to company for fire protection in Louisville, and Holmes believes they are on track to accomplish this mission.
This branch is currently the fire protection service market leader for national chain restaurants and retailers in the Louisville area. One of the reasons for this prominence is their ability to provide in-house maintenance for sprinkler systems. Other competitors outsource this type of service, providing customers with a less consistent experience.
The Louisville branch also plans to continue providing all its available services with excellence. These include sales, inspections, service and maintenance of:
In addition, the Louisville branch plans to expand its commercial security services, with the following new offerings:
Video Surveillance/CCTV
Access Control
Intrusion Detection
Please visit https://www.koorsen.com/locations/kentucky/louisville or call 502-833-7011 to discover what this Koorsen location can do for your home or business today.