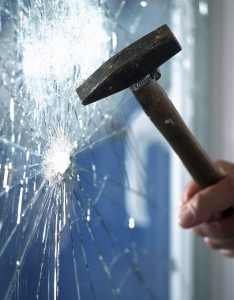 Maybe you think of thieves as Clint Eastwood types who use high-tech equipment to elude commercial security systems and make off with the jewels. Those exist, sure, but they're probably not the ones you need to worry about.
"This sounds strange, but really if you're going to get robbed, you want it to be by the true professional," said Chris Moore, Vice President of Security for Koorsen. "Others might come in and cause a lot of damage that means you lose not just some valuables but revenue due to down time for repairs. The true professional is going to get in, take exactly what he wants, and leave everything else alone."
That percentage of thieves is very small, however. You can break down the threats into three categories.
Employees or others with inside knowledge
By a wide margin, most corporate theft is perpetrated by someone who has inside knowledge of the business.
"You think you can trust your employees, but that just isn't the world we live in," Moore said. "These people know the schedule, the type of alarm, the door locks—it's very easy for them."
It could be that an employee who's in a tough spot exploits an opportunity, or you might find that an employee innocently overshares details with a friend who capitalizes on them.
"A business owner needs to operate with a certain level of discretion," Moore said. "The average employee doesn't need to know a lot of what they do. In many cases, they have full access to the buildings and know where the money's kept."
You also want to make sure that you know who's working for you. A pre-employment background check takes less than 24 hours, costs very little money, and can fill you in on information prospective employees certainly won't.
"In my opinion, every new employee should be background-checked," Moore said.
Beyond that, keeping your schedule flexible goes a long way toward protecting your business. Vary your hours as much as possible. Let it be known that you are often in the building early in the morning or late at night.
"An employee generally will not take that risk unless it's easy," Moore said. "Don't make it easy."
Opportunists
If you have expensive equipment out where it's easily seen from the street, you're inviting break-ins.
"A lot of theft happens because somebody was just walking by a place that is obviously empty and dark," Moore said. "They just happen to be there and see something they want, or maybe they happen upon a place that's unlit and unlocked."
To keep these kinds of crimes from happening, you need to ensure that you're not luring "window-shoppers" with computer screens and other pricey machines kept front and center.
"A lot of times, employees leave, but their nice widescreen monitor is on, and it's just too tempting for someone to break in through the window, grab a thousand dollars worth of stuff and leave," Moore said.
Keep valuables out of sight, as much as possible. And make sure that screens are off so that they're not drawing eyes.
During times that the business is closed for a few days, do what you can to keep it from looking that way.
"Just like at home, you don't want to let mail pile up in the slot," Moore said. "And one thing I highly recommend is that you get your deep clean during that time. That's because the cleaners come in, turn on all the lights, and people see them walking around inside and move on to the next building."
True professionals
"The true professional wants something specific and knows how to get it," Moore said. "These are the ones who make their living by stealing."
This is a tougher criminal to protect yourself against, and of course, a security system is your best bet.
Don't want to spend the money? Moore suggests walking through your building and taking an inventory.
"Scratch your estimates down on a notepad," Moore said. "If you hit $50,000, you need an alarm system and access control. It's very affordable, and I'd think just about anyone would spend a couple hundred dollars to protect $50,000."
###
Koorsen Fire & Security was founded in 1946 and is a third-generation, family owned business. Over the years, Koorsen has become one of the largest and most respected fire and security companies in the United States with more than 26 locations and over 800 associates. Koorsen Fire & Security is well-known for having the best training in the industry, and is insured and certified to design, install, program, service and repair virtually all fire and security products for any size business.