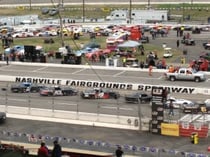 Carlos Ayala gave up the beaches of Florida to take over Koorsen's Nashville office, and as branch manager has jumped into the spirit of his new home with zeal.

"It had to be Nashville," he said. "If it was anywhere else, I probably wouldn't have made the move."
In one of his first forays into the community that he says he loves for its accessibility and for all that music, Ayala organized a Koorsen sponsorship night at Fairgrounds Speedway on November 2.
"Koorsen isn't new here in Nashville," Ayala said, "but there are still a lot of people who don't know that we're here or what we do. This gave us a chance to put up some banners, set up a tent at the entrance, and give out a whole lot of Koorsen gear. It was nice that everywhere you looked that night you were seeing the Koorsen name."
Ayala, who started as a Koorsen technician seven years ago, watched the races with customers from a suite at the speedway, but not before he got out in the crowd to spread the word.
"Everyone was fired up and ready for some racing," he said. "I saw a lot of good races got to meet a lot of people, which is what I love to do."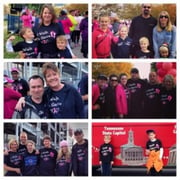 That event was the capper to a community-oriented day for the office—one that started with the Making Strides Against Breast Cancer 5K. The Koorsen Nashville office participated with a team of employees and their families for what Ayala hopes was just the first of many such events.
"There were so many people walking to support breast cancer awareness that day," Ayala said. "We were near the front of the line, and when you turned back, there was just a sea of pink.
"Our office manager brought this to the table. It's something she does every year, and I hope it'll become an office tradition, too. I'm really excited to become more involved in this community, and to keep spreading the word about what Koorsen can do."