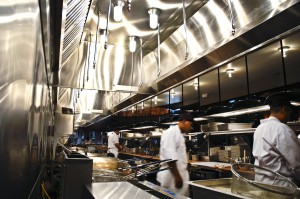 "Every restaurant has a grease problem," said Brian Luallen, Operations Manager of Koorsen Environmental Services. "And now we have a better solution to help our customers with their grease issue."
With cooking comes grease. That's not going to change. And when that grease gets pulled up into an exhaust hood, it adheres to the ductwork and gums up your system, comes out onto your roof to damage everything there, and then wafts into the environment. That's also not going to change.
The answer is to stop the grease before it starts on its way up through your ducts.
Safety Shield is a wool filter that works in conjunction with your required baffle filter, trapping 98% of the grease vapor that would otherwise get into your ductwork. The wool captures grease before it gets a chance to invade your ductwork, becoming a first-line defense against damage.
"If you go onto a roof of a restaurant that doesn't have a good grease containment system, you see ductwork that's completely cased in grease," Luallen said. "Grease also wraps itself around parts of your fire suppression system, which can keep your system from working properly."
Keeping grease from rising means no grease-vapor damage—and less maintenance. Safety Shield reduces your need for hood cleaning significantly, meaning that you could go from having your hood cleaned four times per year to once every 12-18 months.
"The result is that you save a lot of extra costs by never incurring them," Luallen said. "You don't have to replace clogged lines in your detection system. You don't have to repair your roof because it has been damaged by grease."
Using Safety Shield filters also saves the environment. One study for a customer showed that using the filters in their 60 locations would save 807,216 gallons of water a year while keeping 601 pounds of cleaning solutions and 1,397 pounds of grease from being dumped into the wastewater systems.
The filter, which does not restrict air flow and is EPL certified, meets current fire code.
"People who've been in the business a long time remember old mesh filters, which were outlawed," Luallen said. "But the rules have changed and the technology has evolved. These filters are safe, effective, and compliant, and they can significantly reduce the time and money spent managing your current grease problems."