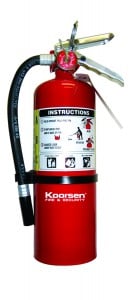 Our business was founded on fire extinguishers, so it'd be impossible for us to take them for granted, but we know not every business owner has the same sense of enthusiasm for them. We can even grant that many business owners barely give fire extinguishers a thought.
We'd like to change that. See below for a few tips that can save your business from the devastation of fire, and let us know if you have any questions.
Not all fires are the same.
There are a variety of types of fires, each of which is fought in a different way. Understanding the types of fires that your business may be subject to is the first step to ensuring you have the proper extinguishers. Click here for a chart that runs down different types of fires and the corresponding extinguishers.
Location is everything.
Even if you have the correct type of extinguisher, that extinguisher will do very little good if it is not easily accessible. Make sure your extinguishers are easy for employees to locate and use. Check out this article to learn more about the proper placement of fire extinguishers.
Extinguishers have an expiration date.
A fire extinguisher has a limited life, and in order to stay safe and up to code, you need to have every fire extinguisher properly inspected by a certified professional at least once a year.
An extinguisher is only as good as the person using it.
The average fire extinguisher will empty within the first 20 seconds of use. Therefore, the person using the fire extinguisher must understand how to use it properly to extinguish the flame quickly. The PASS method described below is the recommended way to use a fire extinguisher. Be sure also to schedule onsite fire extinguisher training with Koorsen so that your employees get hands-on experience before they need it.
The PASS method is the one we—and the NFPA—recommend for quick fire-extinguisher guidance:
Pull the safety pin.
Aim the nozzle at the source of the flames (not the flames themselves).
Squeeze the trigger.
Sweep the spray from side to side across the source of the flames.
After you use a fire extinguisher, you need to replace or refill it. And even if you haven't used your extinguisher, it can become ineffective over time. Working with a reputable fire and life safety company means you can turn over maintenance and inspection concerns—and rest assured that you're up to code and ready for the fire marshal.
###
Koorsen Fire & Security was founded in 1946 and is a third-generation, family owned business. Over the years, Koorsen has become one of the largest and most respected fire and security companies in the United States with 23 locations and over 700 associates. Koorsen Fire & Security is well-known for having the best training in the industry, and is insured and certified to design, install, program, service and repair virtually all fire and security products for any size business. Contact us to schedule your free on-site hazard analysis.